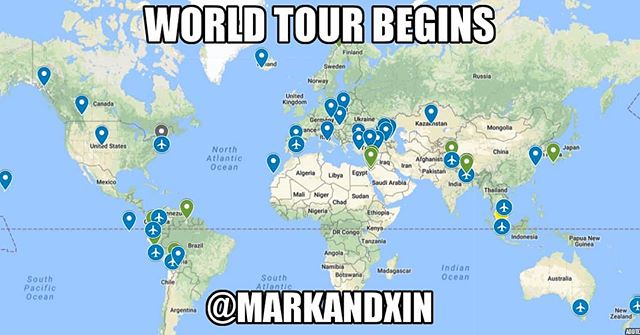 Why we left our jobs in 2018
April 2, 2018
Our blog isn't one about escaping the clutches of the corporate world. The truth is we have had very fulfilling and rewarding careers over the last seven or so years. We have matured and learned so much from moving across the country for work (and across the world for college!), transitioning from one life phase to the next, and growing from one corporate title to the next – all the while supporting each other.
So, why did we leave?
In short – we realized that this was our last shot to realize our bucket list, before making plans to settle down longer term. So many places to go, cultures to experience, foods to taste, languages to learn, skills to acquire, achievements to be had… how could we live with ourselves if we settled to keep doing what we've been doing!
What about costs of traveling?
The countries we've chosen to go to are mostly developing countries, so the costs are very reasonable. For example, food costs about $10 a day in Nepal and in almost all the places we were trekking, rooms are free with the purchase of dinner & breakfast.
Many online travelers have proven that budget traveling is possible even in expensive countries. Given the focus of our travel is about living like the locals do and enjoying nature, it's easier to keep costs low. We've also been diligently saving up over the years we've been working full-time, so that helps with the occasional splurge every now and then.  
What was it like to quit your job?
Absolutely nerve racking! Of course this was an incredibly difficult decision to make, and we thought long and hard before deciding to take the plunge. We had to think about the consequences of putting our careers on hold, potentially being unemployed for an unforeseeable amount of time, whether we had enough savings in a worst case scenario, etc. That said – looking back, the best decisions we've made were the ones fraught with the most risk, albeit thoroughly weighed and contemplated.
What about your home? Your possessions?
We own an apartment and rented it out furnished to make our mortgage payments. All our other belongings are in storage. We've packed the bare essentials for a year-long travel, including trekking/camping gear, in our backpacks.
How did you figure out where to go?
Since we always loved traveling, we have a bucket list that we've compiled over the last few years. Examples include: trekking in the Himalayas, cycling some Cat 1 climbs, seeing the Northern Lights, learning a third language (Spanish), etc. This helps drive most of the countries that we plan on visiting. We've also added countries to the list based on suggestions from friends and other fellow travelers. 
What will happen after you are done traveling?
Who knows what the future will bring, except that we will embrace it and make the most of every experience! Realistically we'll probably get a much better sense of where and how we want to settle down, but that's a different story for another day.