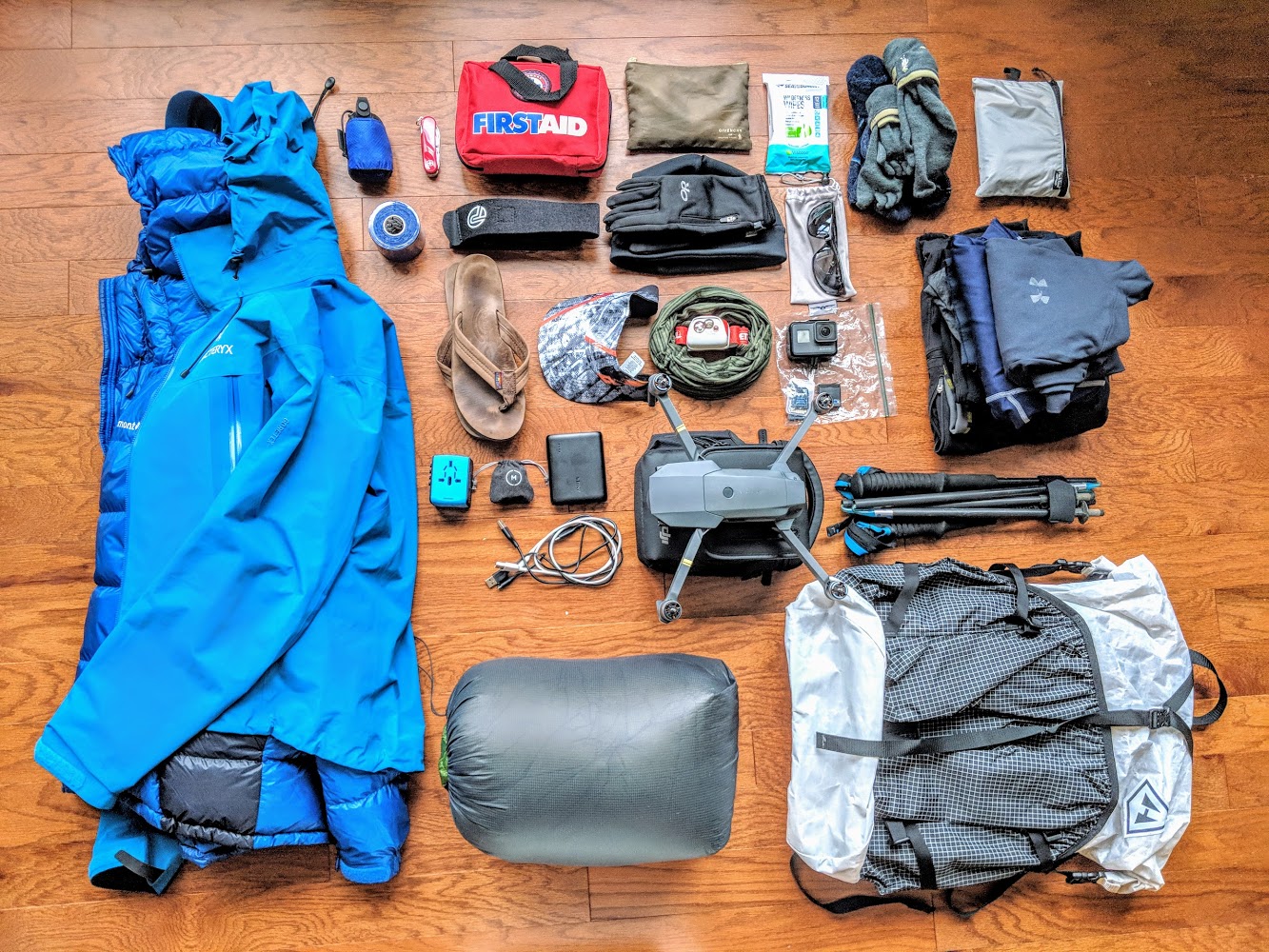 Our ultralight gear for Annapurna Circuit
April 14, 2018
We learned the hard way that it's super important to keep track of the weight of your backpack when trekking. Long story short: we took twice as long as expected to ascend the Salkantay Pass in Peru, almost not making it to set up camp in below freezing weather.
It's not just about ditching that extra book or the sweater that you thought would look cute while trekking. Even small non-essential items add up! (ziploc bag vs your polyester zippable travel bag, tech tee vs cotton shirt etc.) So when planning for our 2-3 weeks hiking the Annapurna Circuit, we weighed every single item and did our best to keep our packs under 10kg. 
FYI: it takes a bit of experience and trial & error to learn what weight you'll personally be able to carry for an extended period. For us (small Asians 😆) that happens to be around 10kg. We're not truly hardcore ultralight trekkers, but we do what we think makes the most sense for us.
Obviously each trek is different and requires your gear to adapt. The Annapurna Circuit has tea houses, so there is no need for a tent/sleeping pads but we chose to bring a travel charger, more toiletries, and more electronics/camera gear. Also the water situation in Nepal is notoriously bad. Do not drink water from the tap or the stream. We didn't even brush our teeth with that water and thankfully stayed healthy the entire time. We brought our Grayl bottles that filters and purifies bacteria AND viruses for this reason. The below gear is for a late March trek in the Annapurna Circuit (dry weather, but temperatures dip below freezing at night on many days during the trek)
Our Packing Philosophy
We generally only have 1 piece of clothing for each weather condition. That includes a t-shirt (read: not cotton), thermal base layer, breathable mid layer, down jacket (insulating) layer, and rain/wind jacket. Is 1 piece really enough? Usually yes; if we're actually sweating so much that we need fresh clothes, that must mean that it's hot enough to do laundry – so we also brought a small bottle of eco-friendly detergent.
For example, we chose to use sleeping quilts instead of sleeping bags, because they can function as quilts or simply zip up and function like sleeping bags (and are lighter in weight). Our headlamps are USB rechargeable but also take AAA batteries. Our socks are merino wool, which work great both in hot and cold weather. Instead of bringing a headband, we used a buff which functions as a headband, scarf and mask.
If there is no electricity, we have the power bank (fully charged ahead of time) ready to go. Trekking as a couple helps a lot with this: if Mark's GoPro is messed up for whatever reason, Xin has her DSLR. If Xin's trekking poles break, we can split Mark's.
Invest in ultralight gear
"Ultralight backpacking" may not be for everyone – it may involve a high upfront cost and can seem extreme or unnecessary. We understand that this may not be right for everyone, but when we're in pain in high altitudes or in difficult conditions, the investment seems oh so worth it. Of course, if you are not planning on hiking seriously long-term, there are other cheaper alternatives that may compromise on lightweight, durability or versatility.
Okay – moving on! Note that these weights do not include our hiking boots (also very important to keep lightweight), food or water. Our candid comments are in italics below.
Mark's Gear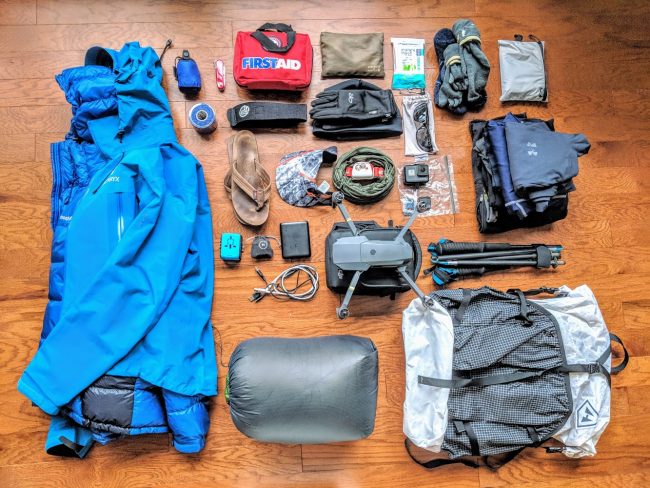 Moving from left to right, then top down:
Montbell down jacket: 320g
Arc'teryx rain/wind jacket: 353g
Sea to Summit waterproof day pack (yes that cute little blue sack): 66g
Swiss army knife: 76g
First aid kit (contains bandages, hydrocortisone, diamox, imodium, ibuprofen, oximeter – use this for high altitudes!): 340g
Toiletries bag (toothpaste/brush, soap, shampoo, moisturizer, sunscreen, towel – PackTowl does really dry super fast): 270g
Merino wool socks (3 pairs Smartwool toe socks – absolutely love these, 2 pairs trail socks): 114g, 132g
Wet wipes: 94g
KT tape: 98g
IT band strap (for an existing injury): 35g
Gloves (including waterproof cover): 70g
Winter fleece hat: 50g
Sunglasses: 33g
Slippers (chose a nicer, heavier pair because we're going to do lots of city walking after this): 266g
Visor: 40g
Buff: 40g
Headlamp (including battery): 80g
GoPro Hero 5 Black (with case and memory cards): 144g
Clothes (2 t-shirts, 1 shorts, 2 thermal base layers, 1 rain pants, 1 trekking pants, 1 compression tights, 2 wool underwear): 1400g
Universal travel charger (includes USB-C and 4 USB ports – awesome for fast charging): 129g
Wide-angle lens for Pixel 2 phone (well, maybe this one wasn't really critical): 75g
Power bank battery pack (13000 mAh): 245g
Charging cables for USB-C, Apple, micro USB standards: 83g
DJI Mavic Pro w/ travel bag & accessories (the drone didn't actually make it into Nepal, but we'll get drone footage elsewhere!): 1409g
Black Diamond carbon trekking poles: 283g
Enlightened Equipment 10-degree sleeping quilt: 701g
Hyperlite Mountain Gear backpack: 881g
(Not pictured) Grayl ultralight water bottle: 358g
(Not pictured) Laptop (to back up & edit photos/videos on the trail): 1,291g
Xin actually carried the laptop as well because she's a stronger hiker than me 😎
Total Weight: 9.5kg
Xin's Gear
Moving from left to right, then top down:
Arc'teryx rain/wind jacket: 323g
North Face Summit Series down jacket (had it since 2013!!!): 263g
Nikon D7100 camera charger: 121g
Extra camera battery, wifi adapter: 108g
Universal travel charger (includes USB ports, no USB-C): 122g
Headlamp (including battery): 63g
Joby Gorillapod: 392g
Hyperlite Mountain Gear backpack: 870g
Waterproof laptop bag: 125g
Beanie and Buff: 105g
Socks (3 pairs of trekking socks, 1 pair of extra-thick wool socks): 273g
Gloves (including waterproof cover): 65g
Glove liner (because my hands get cold easily!): 34g
Nikon D7100 Camera w/ Nikkor 28mm/1.8 Lens: 1,232g
Tops (2 long sleeve tech tees, 1 thermal top – Sugoi Firewall, 1 short sleeve tech tee, 1 tank top): 624g
Black Diamond trekking poles: 347g
Bottoms (1 trekking pants, 1 thermal base layer, 1 compression leggings, 1 rain pants): 753g
Toiletries (shampoo, soap, laundry wash, female essentials): 555g
Sunglasses: 33g
Lightweight daypack: 128g
Luna Sandals (on hindsight, could've packed lighter sandals!): 366g
Safety bracelet: 10g
KT tape: 98g
Packtowl quick-drying towel: 110g
Sporks: 22g
Enlightened Equipment 10-degree sleeping quilt: 660g
(Not pictured) Wet wipes: 94g
(Not pictured) Visor: 40g
(Not pictured) Grayl ultralight water bottle: 358g
(Not pictured) Underwear: 170g
Total: 8.5kg
What do you think of our pack list? What else would you have packed? Comment below if you have any suggestions or questions!
You May Also Like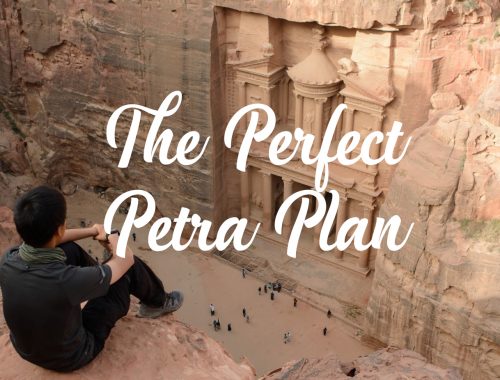 September 19, 2018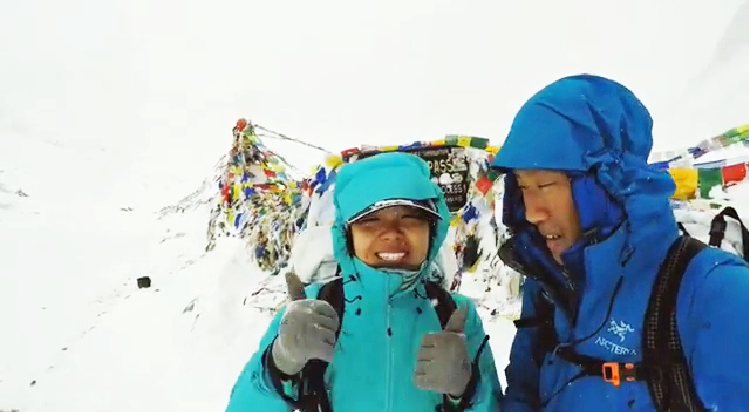 May 28, 2018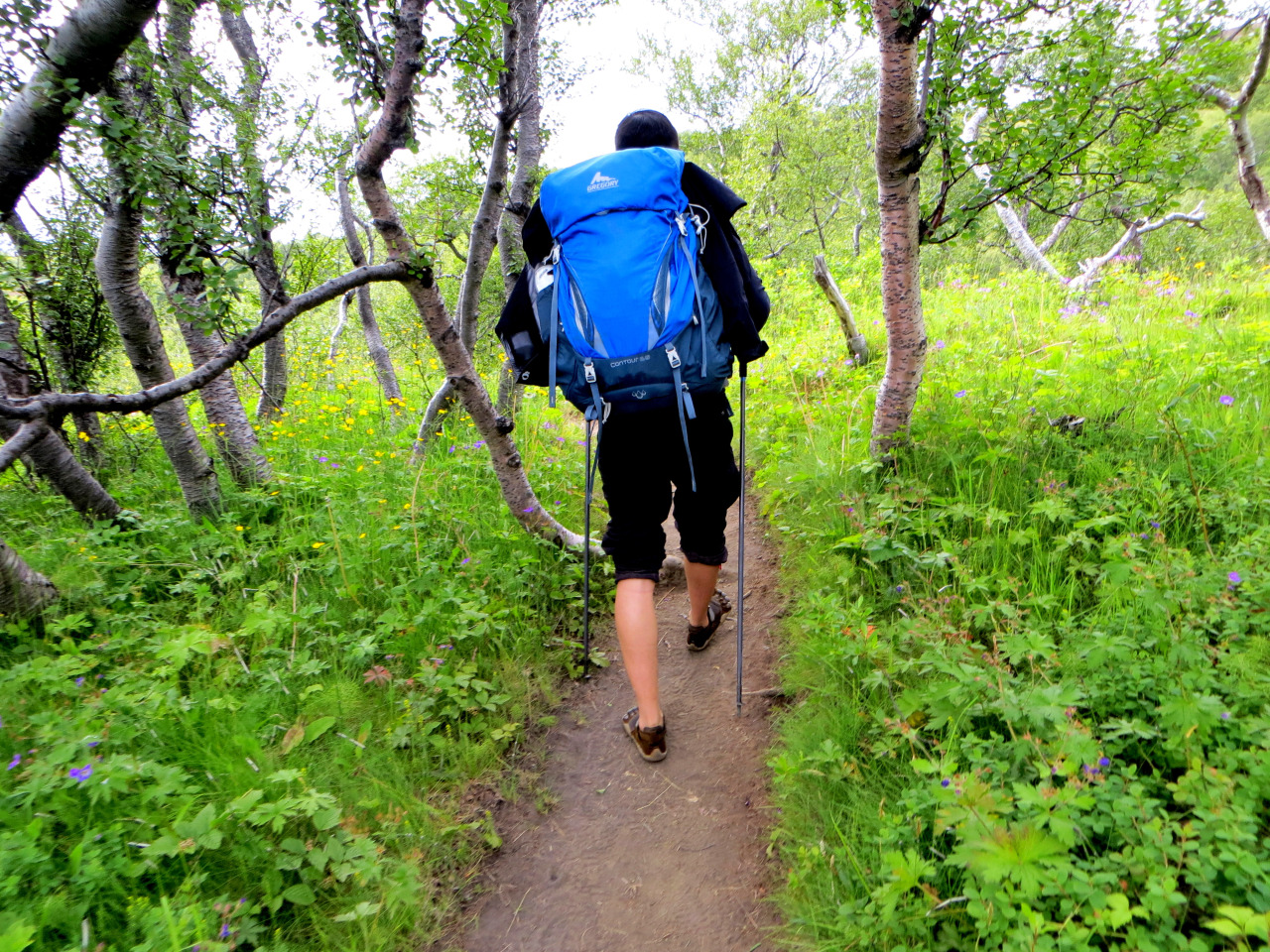 August 8, 2015