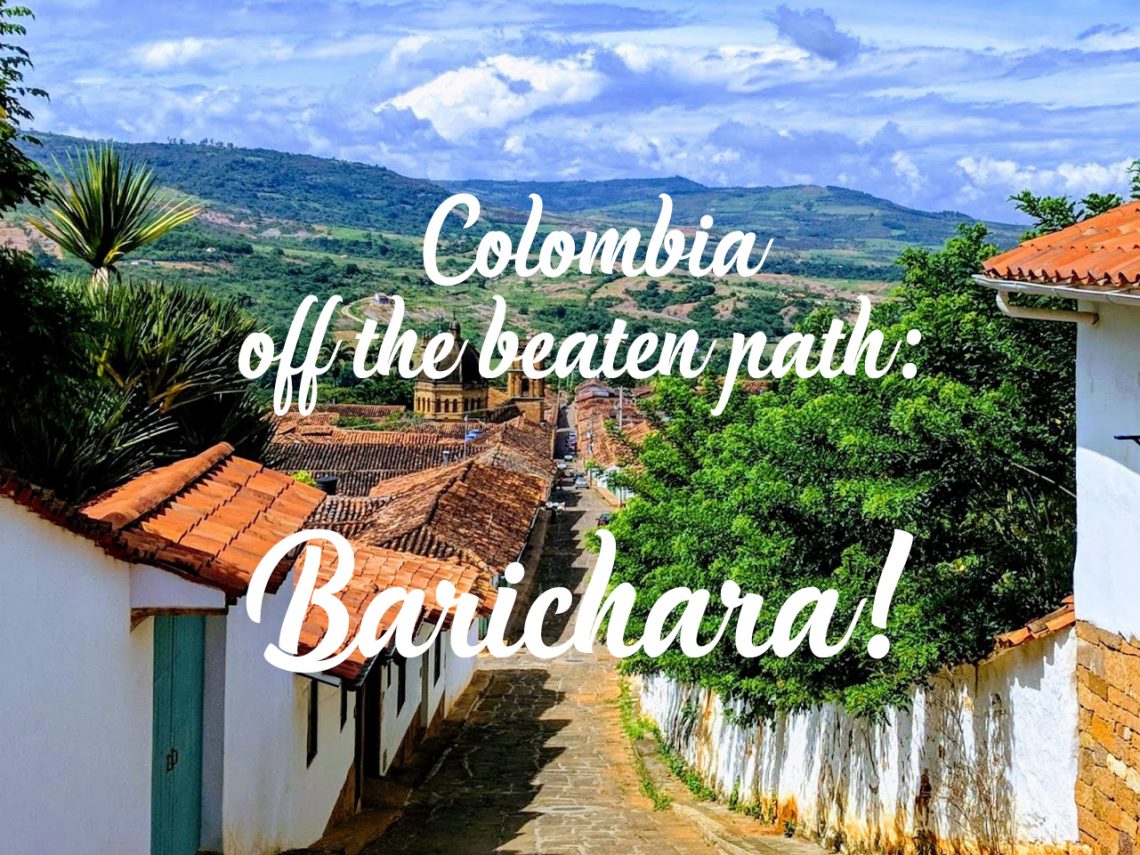 Colombia off the beaten path: Barichara!
March 14, 2019
Travelers rave about Colombia's Medellin, Bogota and Cartagena. However, the best parts of Colombia are well hidden in the hearts of their beautiful pueblos. Barichara rivals many towns to be Colombia's most beautiful town, yet most people haven't even heard of it! Read on to get acquainted…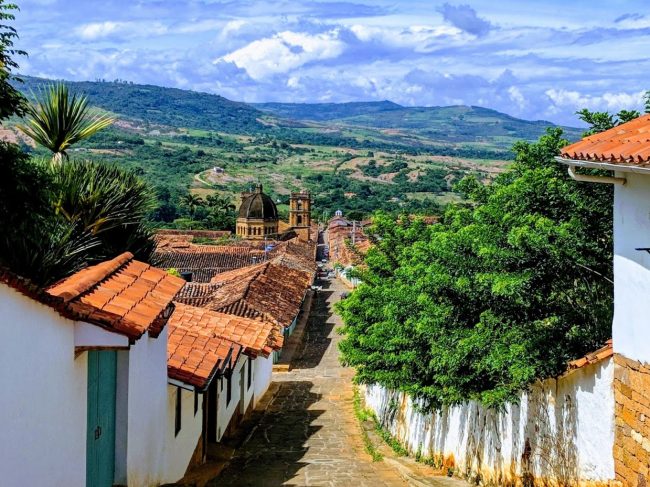 Barichara is a tiny town that can be visited easily in a full day, but we'd recommend spending a few days to fully experience this place. Even better, join the locals in the town's many activities, ranging from art, cooking to partying, you can easily spend a week and pocket some unforgettable memories for the road.
We've included a map below with points of interest.
Highlights of Barichara
While you're there, check off these must-dos off your list!
1. Visit Guadalupe on the way
This first must-do item on the list is not actually in Barichara, but is located in the same department of Santander. It is south of Barichara, and you can stop by easily on the way in or out of Barichara (see bottom of post on how to get to Guadalupe!). This spot is such a hidden gem, locals are fascinated when they see tourists! Although the town is tiny, there are two sights you must visit: Balneario La Gloria, and Las Gachas. See the map above for locations. You could walk there yourself, but we recommend staying at Don Jose's hostel and Jose, one of the kindest and nicest persons you'll ever meet, will be sure to take you around (for free!) and give you some insider tips! He only speaks Spanish.
Balneario La Gloria – grab your swimsuit and enjoy the view! We went in the early afternoon on a weekday and this place was deserted. Enjoy cooling off in the pools. Be really careful walking here – it's very slippery! It's nature's very own jacuzzi!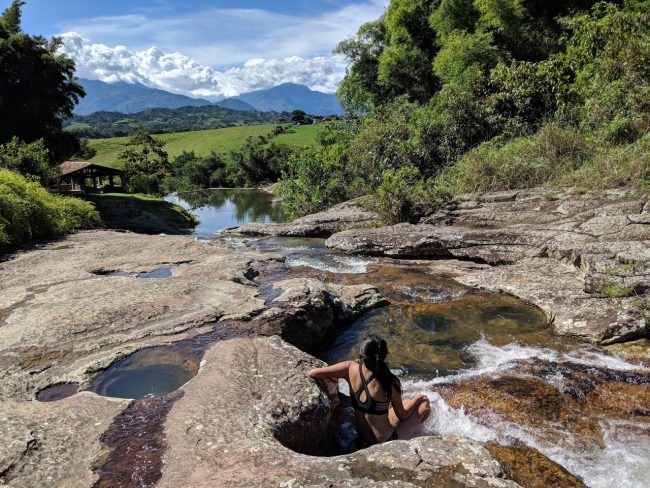 Las Gachas: Similar to the famous Caño Cristales, or rainbow river, it's a place of many round plunge pools surrounded by colorful red rocks! Except this is much easier to get to, and it's free. We hiked ~45 mins from the town center there, and hiking boots are highly recommended especially if there has been rain. Take caution when walking on the rocks – we saw a herd of cows crossing the section and even these steady-footed animals tumbled a couple of times! Enjoy exploring the pools and don't be afraid to take a plunge (literally!)
There are a couple of nice eateries in town, but our favorites are "Crepes y algo mas" for their lunch menu del dia, and "Omarparilla" for some grilled meats.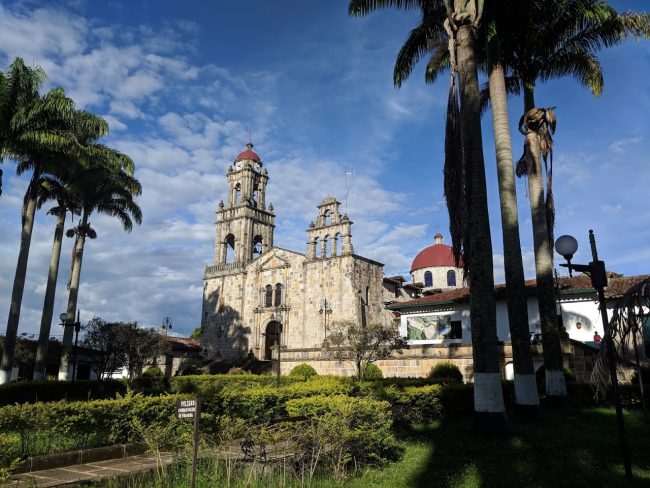 2. Hike Camino Real to Guane
This is an easy, free, 10km downhill hike along cobblestones will lead you to the town of Guane. The start of the hike is at the North-west corner of Barichara, marked on the map provided above. We recommend bringing water and leaving early in the morning to avoid the sun and heat. It took us ~1.5h to Guane, and from there you could either take a bus from the main plaza back to Barichara (~2,300 COP as of June 2018), or if you're up for it, take an uphill hike back into Barichara!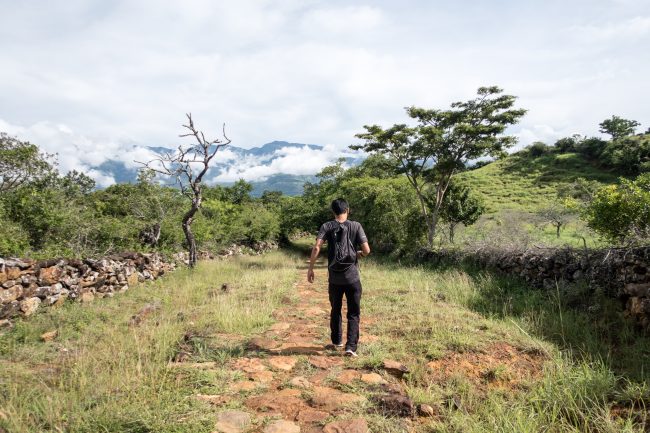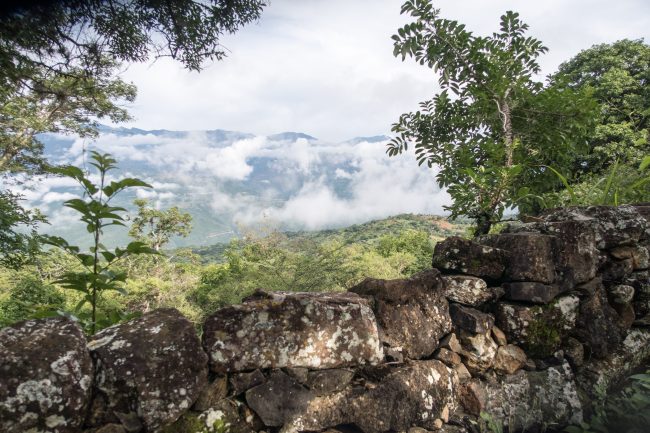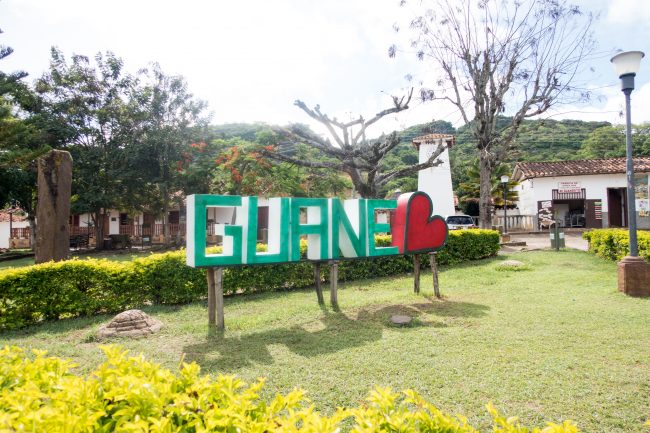 3. This View
This Mirador, named "El Salto del Mico", is only a short walk southwest from town, this breathtaking view displays the green pastures and mountains in the distance. A true beauty that only requires little effort to get to!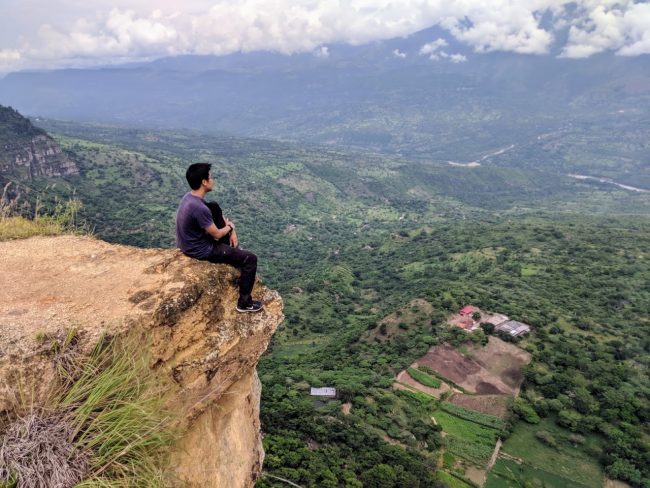 4. Go find Barichara's hidden waterfall
Don't just stop after you've enjoyed the view! Continuing south in the same direction after the mirador, there's a path that will lead you to down a trail to some hidden waterfalls! You'll pass through rocks shaped like large mushrooms sprouting from the ground, then navigating through willow trees and finally to the waterfalls. Note that although there aren't any clear directions on how to get there, the trail itself is pretty obvious. We had to bushwhack a little to the front of the waterfall, but nothing too crazy!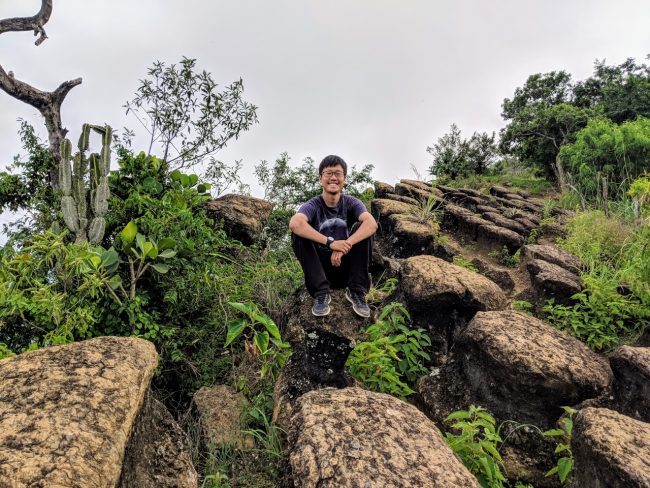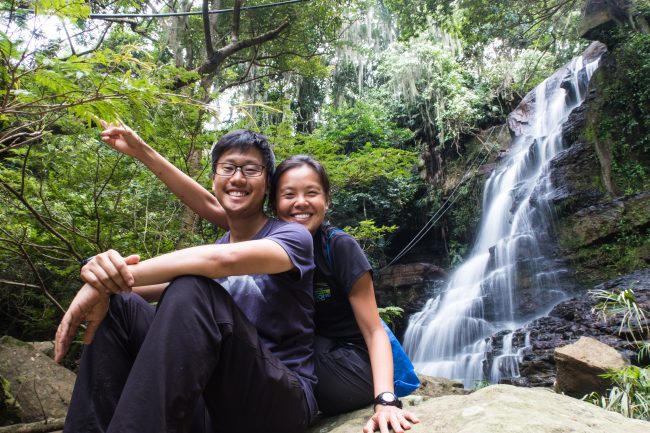 We also managed to find THIS view not far from the waterfall, where you look down into the abyss from the top of another, much larger waterfall. Just be careful, there aren't any barriers to keep anyone from falling down so tread with caution.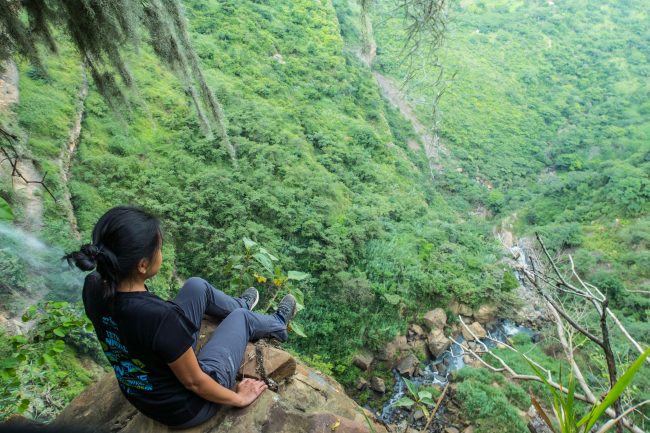 5. Cemetery
Like the movie Coco, this cemetery celebrates the lives of the dead, and is nothing short of amazing! Be respectful when walking around and keep your excitement down if you can!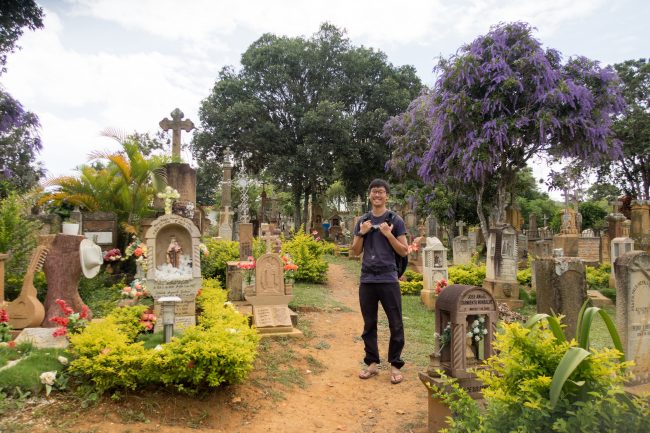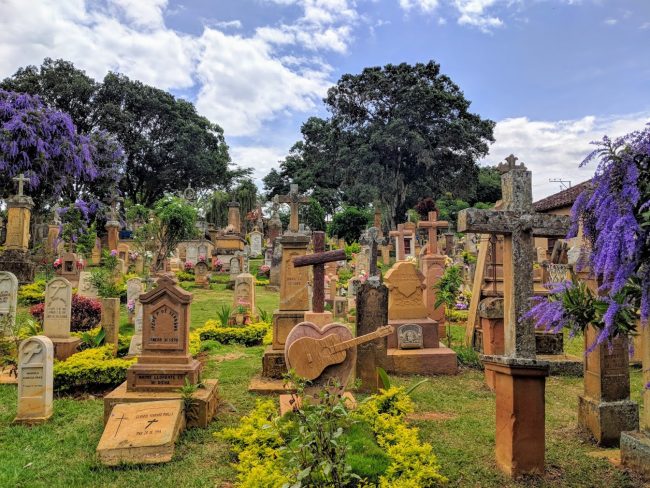 6. Eat ants
Ah, the Santander Special. These ants are essentially the queen of the colonies, picked by hand by the locals during the right season, then grilled on a ceramic pan with salt before consuming. It may look disgusting, but they actually taste… quite amazing! To us, they taste like shrimp, with an extra crunchy shell. This may not be readily available. Fortunately, the wonderful host we stayed with graciously cooked a bunch for us to try. Ask around if you'd like to sample this delicacy and someone may just have a stash in their freezer to cook up!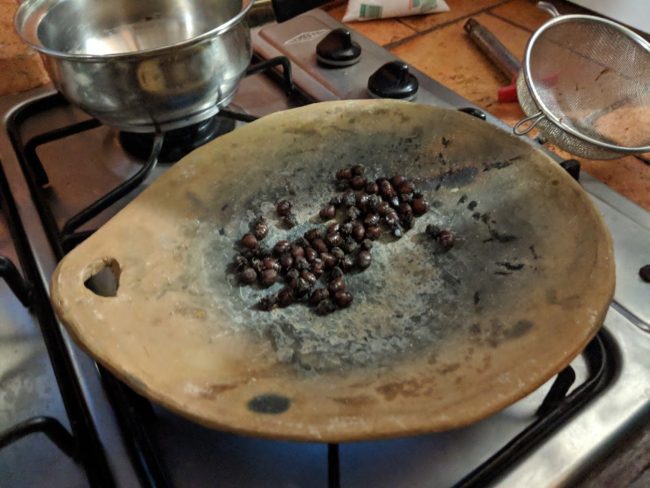 7. Artisanal goods and yummy eats
Barichara is a town with no lack of good food. From local cuisine to artisanal breads – there is a lot the town has to offer. There is a strong art and hipster culture all around, and you'll be surprised by how creative these minds can be! We've added our favorite eateries and shops to explore on the map provided above. Go check them out!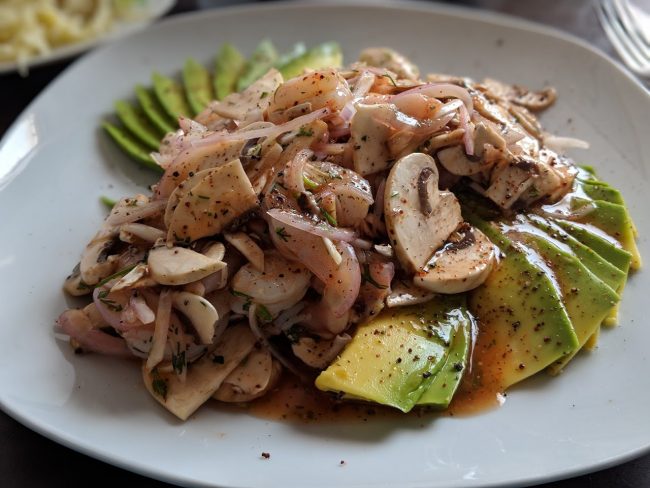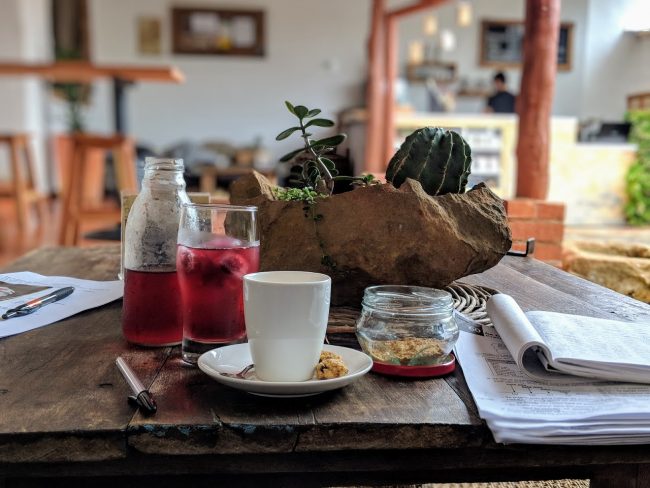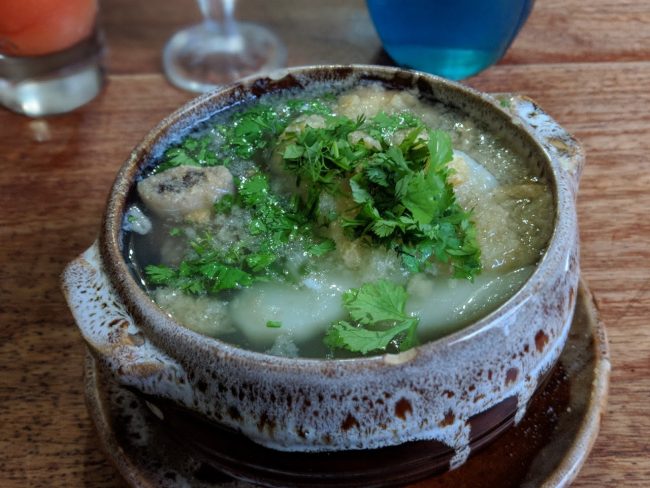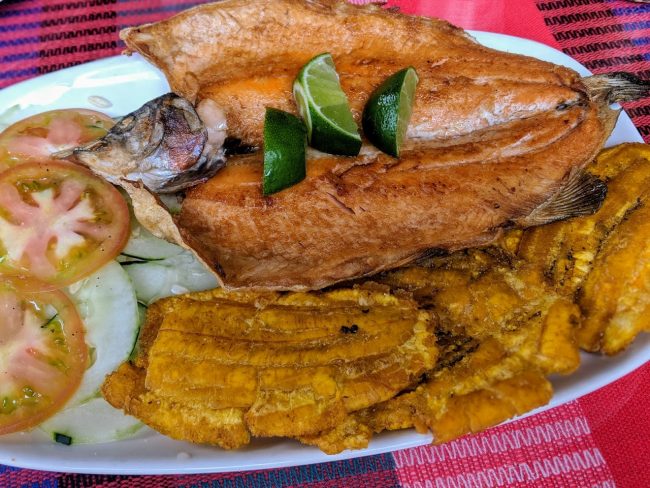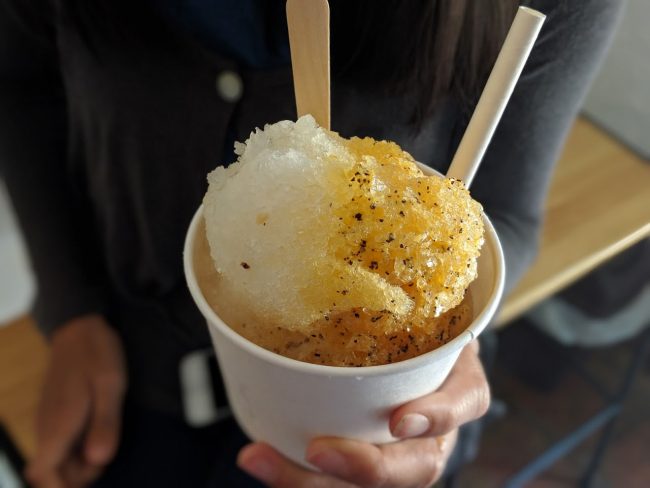 8. Go crazy photo-taking
There's no lack of photo opportunities around this picturesque town. A photographer's dream – there are photo opportunities both around and out of town. Be sure to put on your creative lens and go exploring!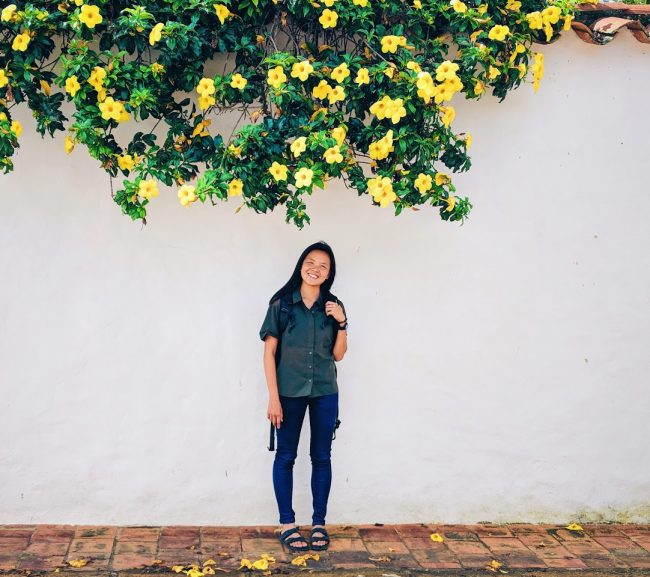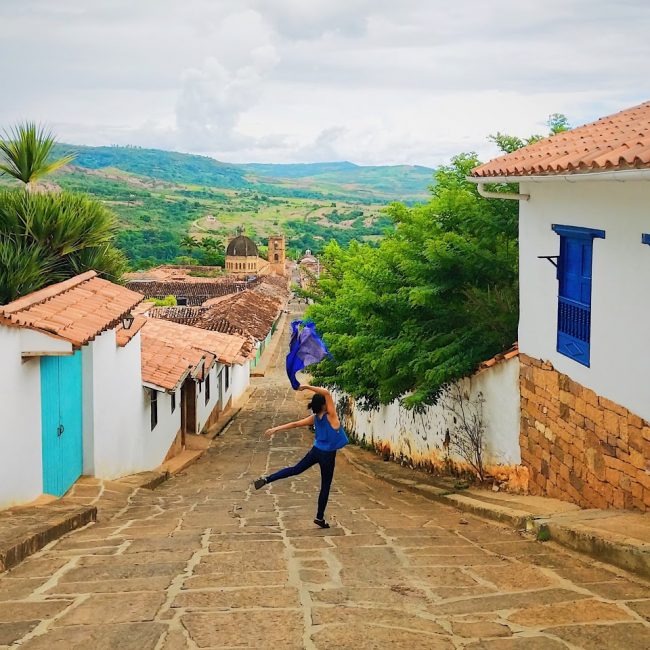 Getting there and where we stayed
Getting to Barichara: Definitely by bus. The route will depend on where you depart, but chances are you will need to transfer a couple of times (welcome to Colombia!) Wherever you come from, you're most likely going to make a bus transfer at San Gil or Bucaramanga, the two closest major cities, to Barichara.
Getting to Guadalupe: Depending on where you're coming from, grab a bus to Oiba, then take a 45 min jeep into Guadalupe. Alternatively you can also catch a bus from the town of Sorocco.
For reference, we departed for Barichara from Villa de Leyva, and so it made sense to stop by Guadalupe first. Our bus route was: Villa de Leyva -> Arcabuco -> Oiba -> jeep to Guadalupe -> Sorocco -> San Gil -> Barichara. When we left for Medellin, our route was Barichara -> Bucaramanga -> Medellin.
Getting around: Barichara is a small enough town to get around on foot. There are some tuk-tuks in the main square if you don't fancy the steep hill walk to the north part of town. If you hike to Guane, you can easily take a bus back to Barichara.
Where we stayed: We stayed with Tu Casa Barichara, which we highly recommend. The place is a two-storey home with 4 rooms, a kitchen, and an awesome backyard. The owner of the place, Margarita, speaks great English, and can help you with any questions you may have in the area. She'll also connect you with her awesome friends, practice Spanish with you, and will encourage you to join her and her friends in activities like cooking, eating and having a beer in the evening!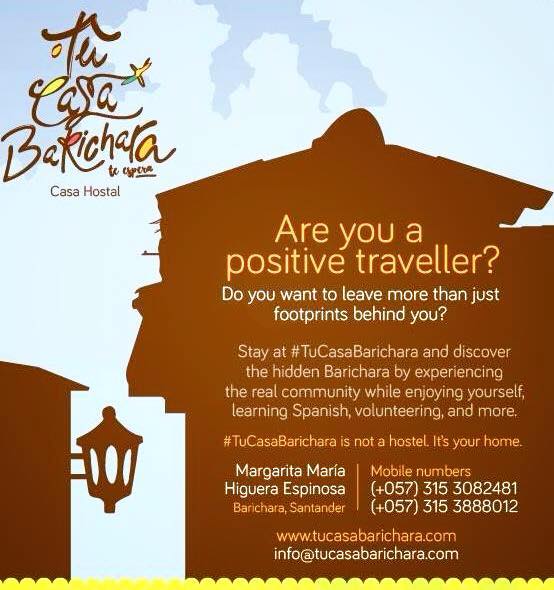 Questions? Leave us a comment below and we'll get back to you!
You May Also Like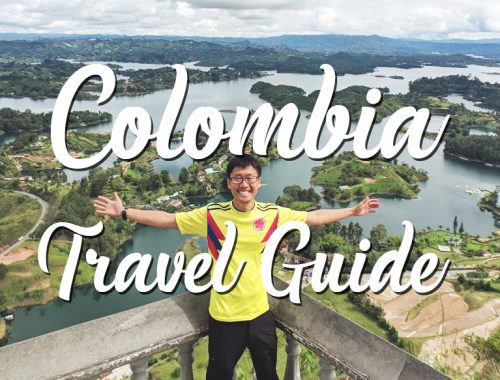 January 19, 2019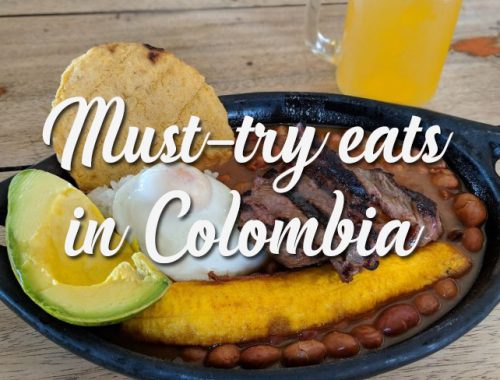 May 13, 2019