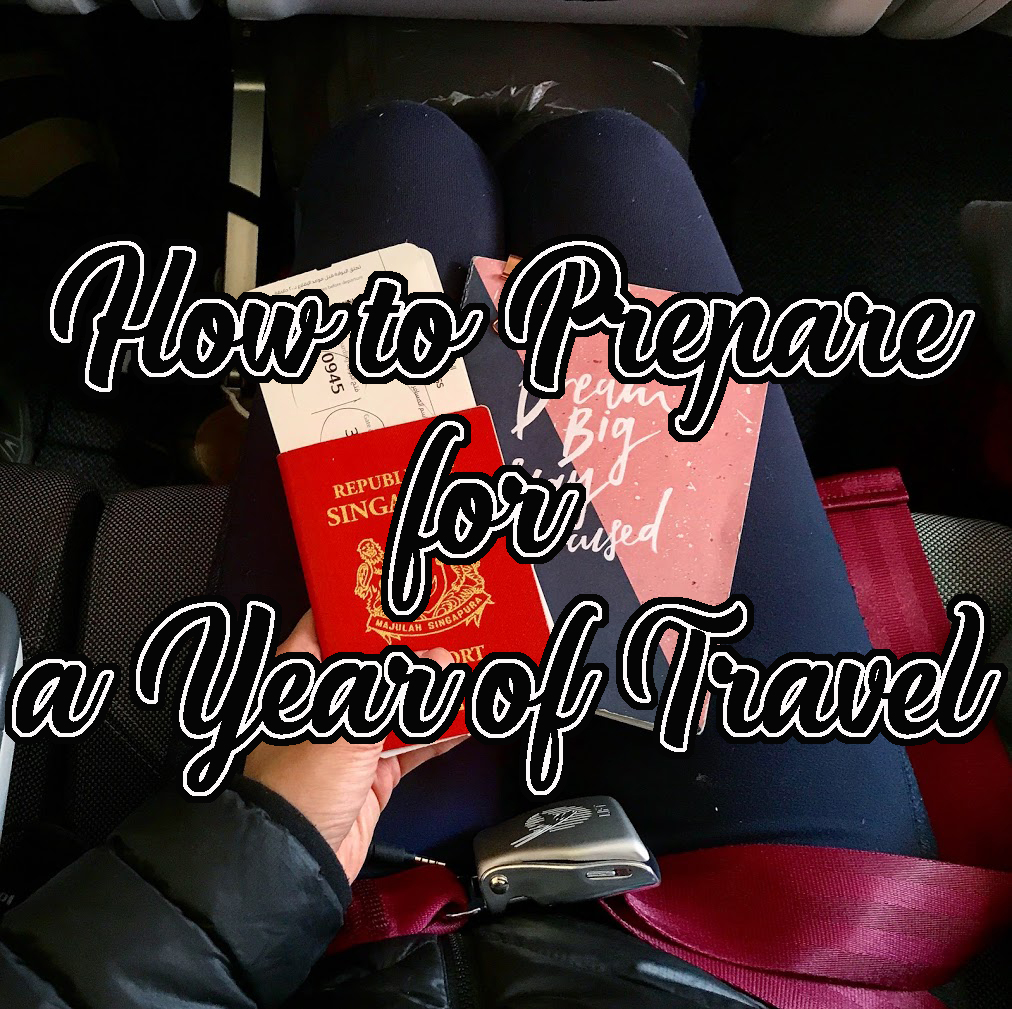 How To Prepare For A Year Of Travel (or any long vacation)
February 22, 2019
Okay, you're ready for the trip of your lifetime. You pick up your luggage, your one-way ticket and your car to the airport is on the way – OMG the adventure begins!!! Right???
If only it were that easy.
Without good planning, you'll be sure to end up in a less-than-ideal situation. Like being yelled at by the immigration officer, demanding you show a return ticket then being forced to take the next flight home. What if the ATM eats your debit card? Now you're cold, hungry, cashless and no one will accept a credit card. What if your phone slips out of your hand and into the river while hiking ? Together with the 1,001 photos you took during your trip? Or you have bought items at each amazing destination you visit and end up hauling three heavy pieces of luggage with you from country to country? Uh… no thanks.
You get it. Planning for an extended vacation is obviously quite different from planning a regular one. We're here to help! Check off this list before leaving for your adventure!
Cellular + Finances
1. Cellular service without needing SIM cards: Instead of going around buying SIM cards in every country, we use Google Fi which is essentially a SIM-less solution to having cellular & data service in all the countries we're going to. Note that you do need to have a compatible cell phone.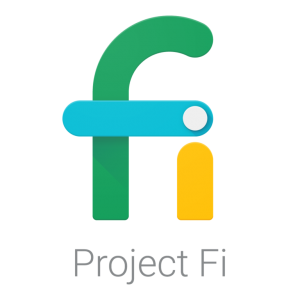 2. TWO debit cards that offer fair FX rates, sans fees: Don't carry cash around and change them at airports. Just use a debit card that has no ATM and no FX fees. Yes, it exists! (will vary by country, based on where you live.) For us, TD Bank offers certain accounts ("Premier Checking" as of this writing) with all ATM fees reimbursed, at fair market FX rates. And plan to have two debit cards (split them up in case you lose your wallet), as there is always the chance the ATM may "eat" your debit card (yes that happened to us!)
Tip: To minimize the chances the ATM will eat your credit card, always use ATM machines with a PLUS logo, look for modern machines with modern card readers, and try not to bend your card.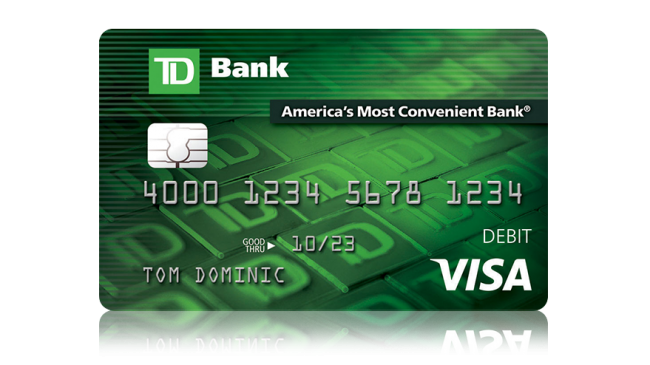 3. Credit cards with no foreign transaction fees: Similar to the above, transaction fees can quickly add up when you're traveling all the time. Many credit cards that do not carry an annual fee also offer zero FX fees.
Tip: Sign up for a travel rewards credit card that gives you bonus points/miles. Those can go a long way to save you a bunch of money when booking flights. Plus some of these cards give you perks like free access to airport lounges, perfect for long layovers! Google "best travel credit card" and do some reading!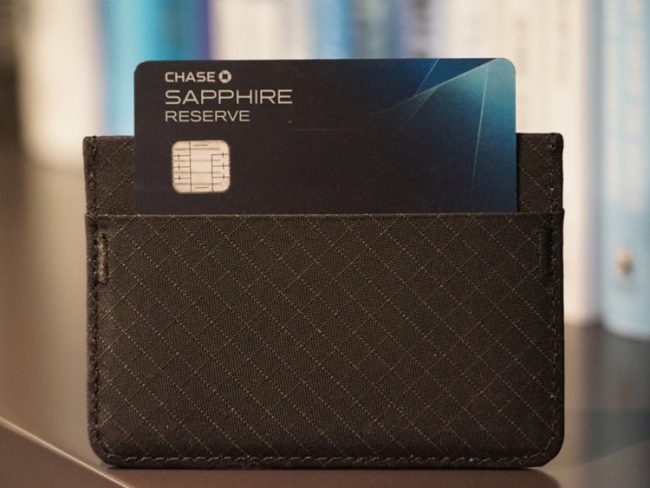 Travel Planning
4. Planning system: We planned our itinerary on Google Sheets with all the details of our travel, plus research for each location. That allows us to easily update it via the Google Sheets app, or via our laptops (when we have WiFi), and also download an offline version on our phones to refer to. Here's what we track:
Transport details (flight number, bus companies, timings of departure and arrival)
Day by day activity timelines, links to useful articles
Flight/travel membership numbers
Expenditure (both cash and card)
Visas and documentation required for each country
Hygiene (is tap water safe to drink?)
Also, we religiously plot places we would go to on Google Maps – which was more than reliable in all the countries we've been. Just click on a location on Google map, click "Save" (see image below), and "+ New List" or save it to an existing list! An icon will appear on the map indicating the saved location.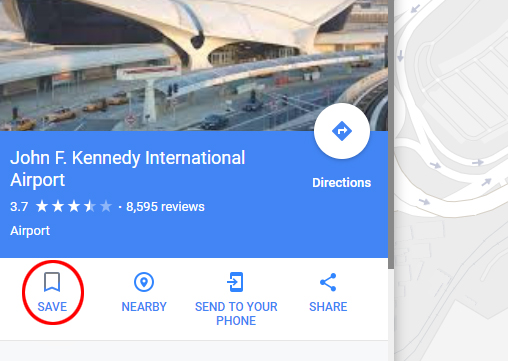 5. Visas, return tickets:  This should go without saying – check if you need a visa for the country you're visiting! Some countries also require additional documentation for visas, like vaccinations, a sample itinerary, lodging details etc. Also, based on our experience, you can get in trouble in certain countries if you cannot show an outbound ticket (in our case, it was mandatory in Turkey and Jordan, and in Bolivia when we applied for the visa on arrival).
Electronics + Media
6. Keep your data safe: In case you lose your electronics, you don't want your personal information in the hands of the thief. We carried our laptops with us, which means there is plenty of personally identifiable information. Before leaving your home country, back up your data somewhere safely and encrypt the laptop(s) you'll be bringing (use something secure, preferably something that encrypts the entire hard disk – we used BitLocker). For cell phones, make sure you have Find My iPhone or Find My Device (Android) so you can remotely wipe and factory reset your phone, in case you lose it. 
7. Photos/videos backup: Let's face it – losing items are common among travelers, and there's nothing worse than losing memories. To make sure your previous photos and footage are not lost, it's best to have a cloud back-up option. That way all your photos/videos are backed up every time you have access to WiFi. We use Google Photos, but there are a whole host of options out there to choose from.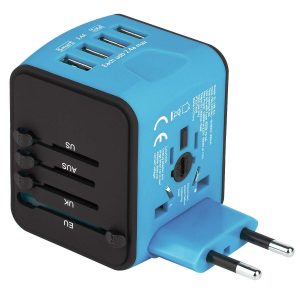 8. Electronics charging: True story – we were waiting at an airport for our next flight when we noticed two travelers hogging the only power outlet in the waiting hall. They started by trying to charge a bunch of different devices, complained about how slow it is, then unplugged everything else but their phones. After an hour they were exasperated by how their phones were still below 20% and had to get on their next flight. Lesson learned: get a proper charger and proper wires (yes, wires matter).
A proper charger should be able to produce 3A/3.4A of charging (per port), and your cables should be equipped to handle it. Those guys were using an old looking charger that was probably manufactured during USB 1.0 times (0.5A, 2.5W). If you've got USB-C, make sure you've got a proper cable and you should be able to get from 0% to 60% in 5 mins. That's roughly how long it took us charging two phones.
It goes without saying – different countries have different power outlets, so bring a universal adapter with you. Get one like this (see picture above) which has USB and USB-C ports for your phone, GoPro, tablets, etc.
Secondly, based on the number of days we'll be going without electricity, we calculated the number of extra batteries (for our GoPro) we would need given our expected recording time. We also chose a battery pack that has just enough power to fully charge all our critical devices once through.
Health + Hygiene
9. Health insurance: Some memories are not worth dying for. Practice good judgment and don't put yourself and your partner's life at risk. Unfortunately, accidents do happen, so make sure you have travel insurance before you go. We know they're not cheap, but it can literally save you. Read the policies carefully – we decided on getting a medical-only plan because we had good trip interruption/cancellation and baggage loss coverage from our credit cards. Our health plan (GeoBlue Voyager Essential) covered:
Hospitalization
Emergency evacuation (read: helicopters if you are going hiking or multi-day backpacking)
Sports and high-risk activities
x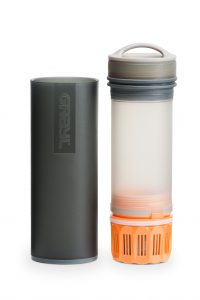 10. Water filtration system: Even if you are not going hiking or camping in the wild, this item is SO important. Not all tap water is safe to drink, and do you really want to have to scour for bottled water all the time? There are a few different types of filtration systems out there, but the one we found most useful, foolproof and portable is the Grayl ultralight. Sure it's on the pricier side, but it ensures that we stay hydrated no matter where we are! We've used it in our bedrooms as much as beside questionable water streams. It's an absolute lifesaver. We liked that:
Easy to use, portable system
No waiting, pumping, transferring, batteries or charging involved. Just press, and drink straight out of the bottle!
Filters bacteria AND viruses

 

No aftertaste! Seriously, we even filtered river water and it tasted fine!
Lightweight
Good for 300 uses (600 between the both of us)
11. First Aid and Medicine: Pack these first-aid essentials into a little bag for your trip:
Anti-inflammatory, pain and fever meds (e.g., Advil and Tylenol)
Stomach and anti-nausea meds (e.g., Pepto-Bismol)
Cold meds (e.g., Dayquil)
Band-aids of different sizes
Moleskin (for blisters)
First aid scissors
Antiseptic wipes
Hydrocortisone cream
Duct tape (seriously, so handy! Don't need to take the whole roll, just pull off and roll up a good amount)
Tip: If you question the food hygiene of a certain location, don't risk it. Food poisoning can really cause major issues and setbacks in your trip. If the area doesn't have access to consistent electricity, avoid food that requires refrigeration (meat, dairy). If the water is questionable, make sure all food is cooked in boiling water, no raw stuff (including salads), and avoid eating skinless fruits (orange good, apple no good). 
Other Best Practices
12. Always have 2 sources of failure: A consistent theme in this post – always have a back-up for important items. Like credit cards, chargers, batteries, your media, and also have scans of your important identification documents in a cloud library or email them to yourself.
13. Certain things need to be planned ahead of time: You don't have to plan everything (and you probably can't), but anything that requires transporting yourself and/or your personal belongings should be planned ahead. We mean – how to get to the hotel after you land at the airport; getting from place A to B; what time does the bus or train or ferry leave, etc. Basically, minimize the time where you may be walking around clueless, not knowing where you are or where you should be heading. This can create unnecessary stress which makes you vulnerable to scam artists.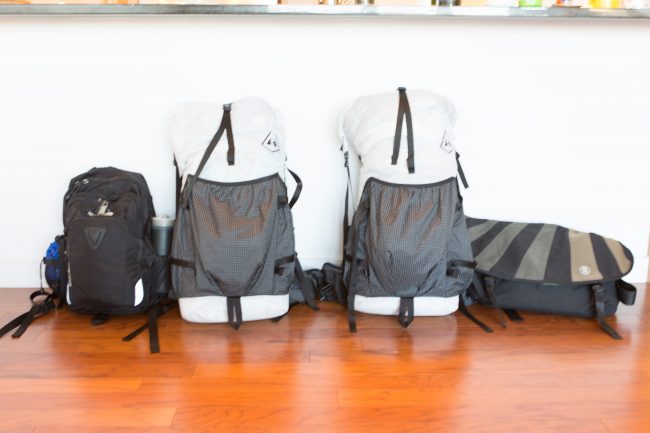 14. Minimalism: Try to minimize the number of things you bring. Not only is this easier/lighter to carry around, it significantly reduces the chance of loss because you can bring your bags up the plane as carry-on if necessary.
We recommend a hiking pack for most of your things (ugh, no dragging please…) and a smaller backpack for your essentials (read: it never leaves you!). This means you need to pack light (in quantity and in weight). Think versatile items that can be used in multiple locations or climates. See this post to see how we packed our hiking gear – other than that we only packed 2-3 pieces of "city" clothing! Yep! That's all we packed for our year-long travel!
We hope this post is helpful! Please leave a comment if you have any questions or suggestions!