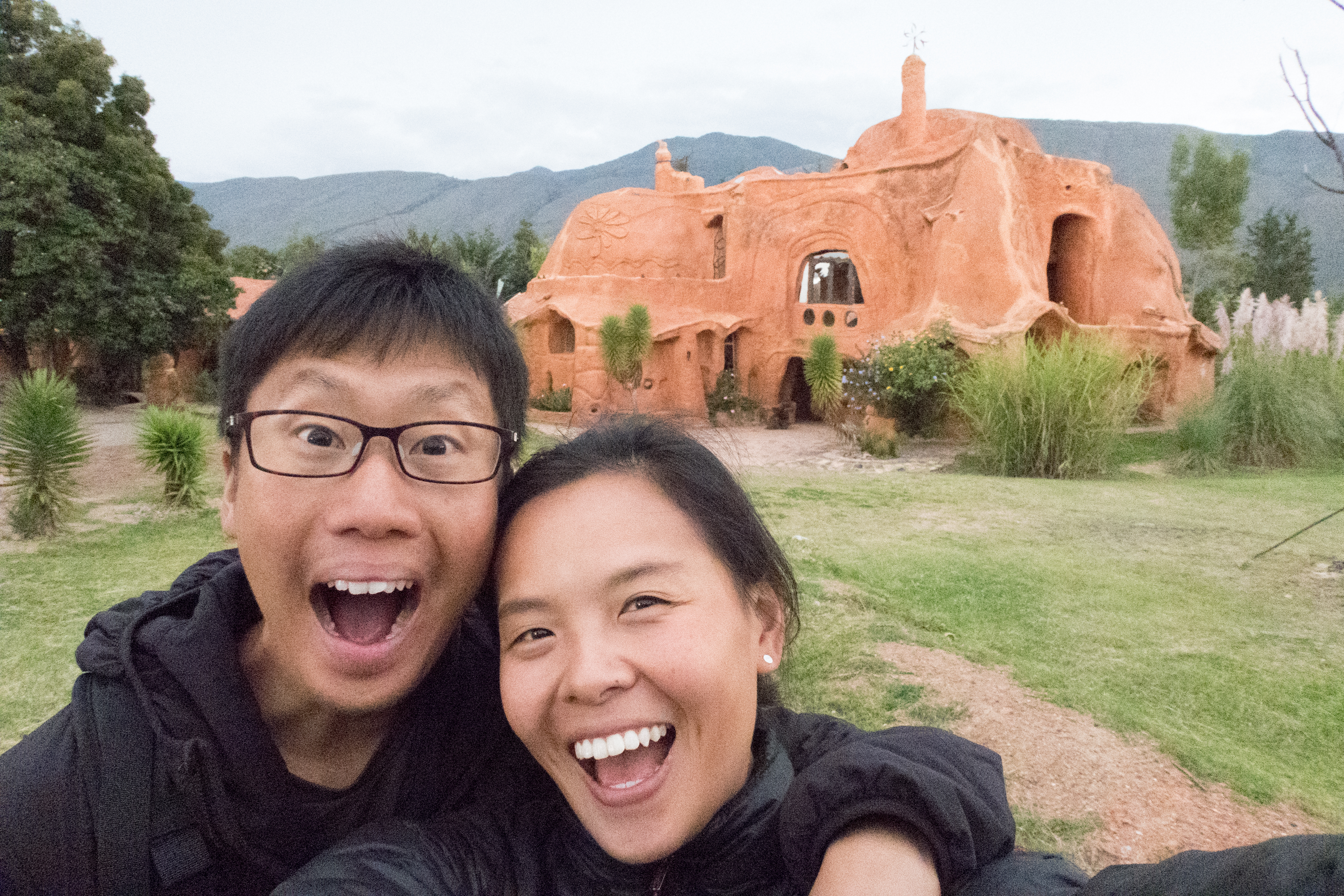 Colombia Travel Part 1: Villa De Leyva
June 11, 2018
Hola… Colombia?
It's been 3 months since we've started traveling – we've been to two continents and now at our third. Interestingly I have chosen to blog about where we are now versus where we were before. The reason our Annapurna blog post (and Middle East and Europe) is delayed is because of, well, laziness. Then again, my excuse is that I made a video about it, so I can procrastinate on writing about that for a bit more, maybe for another 3 months.
In any case, we dedicated a chunk of time of our planned vacation in South America, because #1) we seem to love Spanish speaking countries, probably because of the chill vibes and excuse to siesta, and #2) a by-product of #1, which is that we want to learn Spanish!
After a quick search we narrowed down to Colombia, Ecuador and Bolivia, for countries that are not only affordable to live in, but are safe and have accents that are easier to pick up than other Spanish-speaking countries. We dived right into Colombia first, with some nerves and knotted stomachs to begin with, mainly because of its travel status marked on various countries' travel advisory sites. Wasn't Pablo Escobar already dead in Season 1 of Narcos? We didn't want to take any chances, so we avoided the places that seem to hold the most horror stories of robbery and theft and picked safe towns / cities that were marked safe by these travel advisory sites.
In any case, for some unknown reason, we were extremely drawn to Colombia, determined to experience its culture and unique identity, we flew there right after our travel break in California.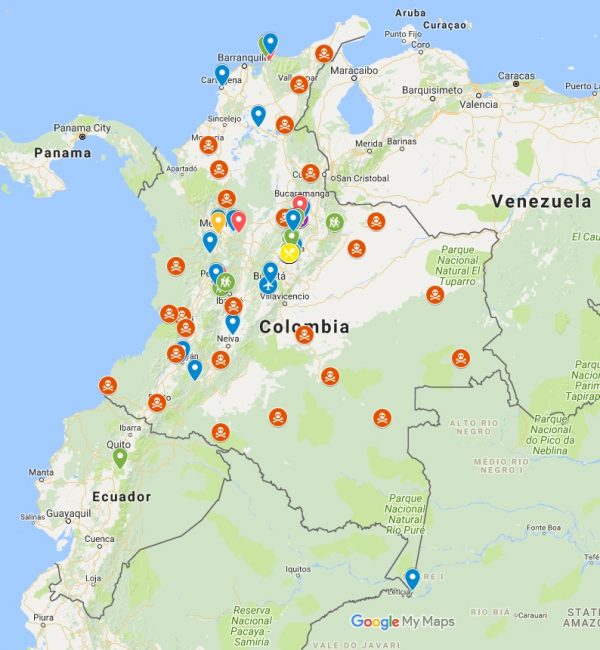 First stop, Villa de Leyva
The Boyaca department seems safe, but we wanted to avoid cities as much as possible, so we by-passed Bogota and arrived in Pueblito Villa de Leyva! It seems to check all the boxes for a great first two weeks in Colombia:
Safe i.e. away from borders, guerrilla zones, drug zones
Not a city
Very few (reported) crimes
Spanish lessons
Cheap accommodation
CHARMING TOWN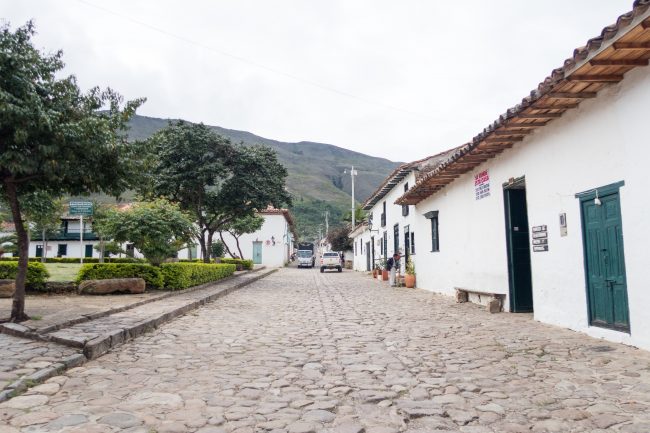 Some basic travel info for ya..
Buses leave Bogota to Villa de Leyva daily, from both Terminal de Transporte (closer to airport) and Terminal Satelite del Norte in Bogota. Our flight (Spirit Airlines) landed at 1pm. We rushed from the airport to catch the 2.40pm bus leaving from Terminal de Transporte, with bus company Libertadores, and arrived in Bogota at 7pm. The bus ride was comfy and felt very safe. 25,000 COP per person as of June 2018
Taxi from Bogota airport to Terminal de Transporte cost us roughly 23,500 COP (we think we may have paid 4,000 COP too high…)
Villa de Leyva sits at 2,149 m (7,051 ft) in elevation. While you won't have any altitude sickness symptoms, climbing up hills may feel just a tad more tiring than usual
The town is littered with hotels/hostals, but we found cheap accommodation on Airbnb. The place we stayed at was a 25 min walk away from the town center on a quiet street, surrounded by nature. We stayed in a beautiful room and the hosts make breakfast everyday!
We found a Spanish teacher there thanks to Google, and a bit of social media stalking skills. Fortunately she was available, and we had 40 hours of Spanish with her over two weeks! We were glad she was so accommodating!
It's pronounced like Bee-ja Deh Lay-ba (soft "v" sounds that like a "b")
Weather in June was pretty nice, t-shirt weather in the day and light jacket + long pants at night (nice try, mosquitoes). It was dry-ish with a few days of light rain / drizzle
(Have questions? Drop us a comment below)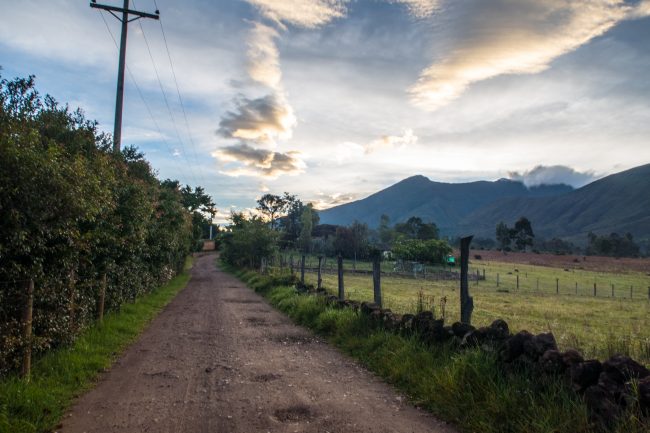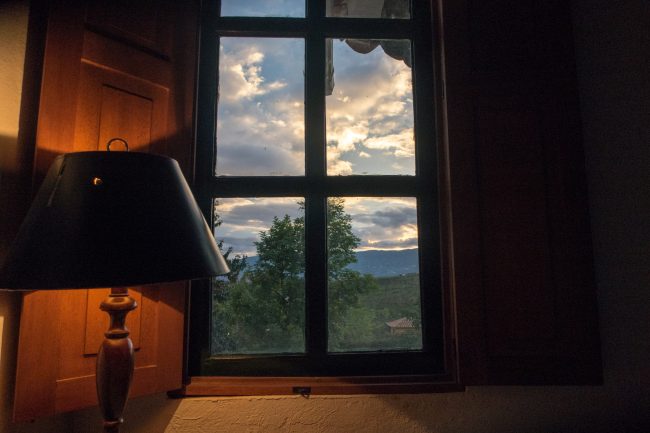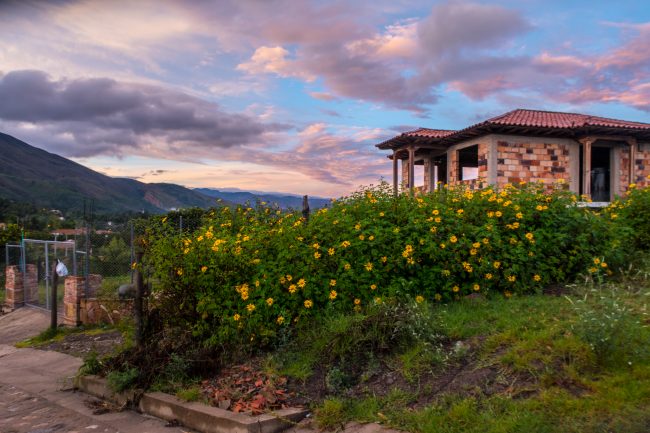 What to do in Villa de Leyva
Many reasons why Villa shouldn't be an overnighter (or worse, day trip). There are tons to see and do, of which we didn't even get to all of them because of our time spent learning Spanish.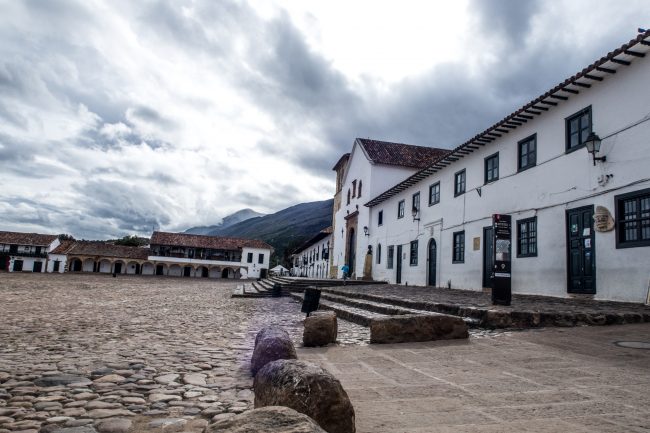 Saturday Farmer's market
Sabado – the day of the week the entire town swarms to this place to grab the freshest produce from farmers. The stars of the market are always the exotic fruits of Colombia (try them all: Lulo, Feijoa, Tomate de Arbol, Cherimoya, Guanabana, Maracuya, Curuba, Granadilla, Pitaya, Mamoncillos, etcetc. It doesn't matter what they taste like, just try them all to find out!). They are super cheap and very fresh. You can also grab a bite from one of the grilled meat stalls.
If artesenal items are your thing, check out the white tents on the platform a level higher than the rest of the market. I heard they are there on Thursdays as well, but the produce section is alive on Saturday.
Market opens early, I was there at 7am and most stalls were up and ready. I believe it closes at 4pm. To get there, walk on either side of the Plaza perpendicular to the church (calle 12/13) towards the mountains (South-east) for about three streets past Carrera 6. You can't miss it!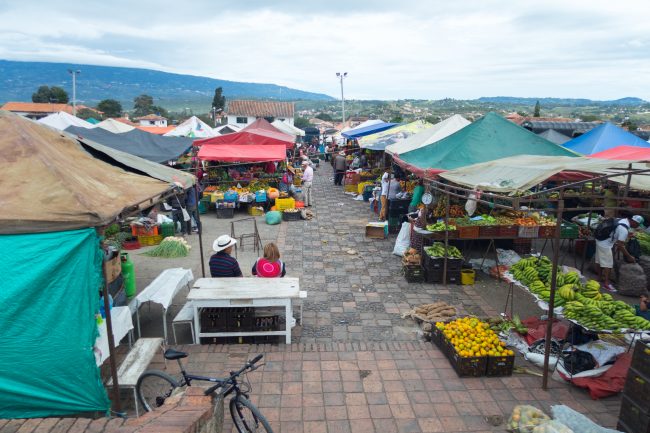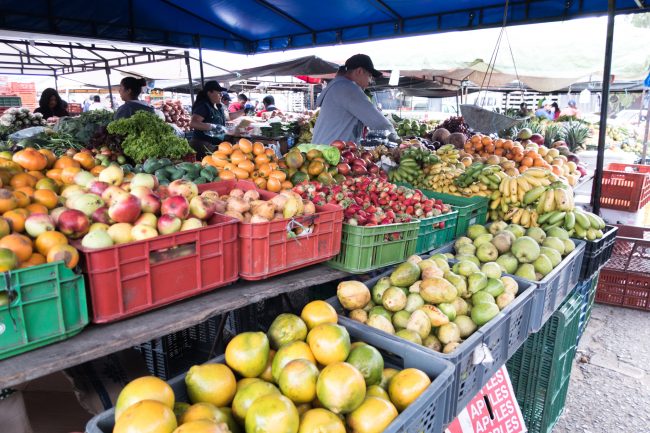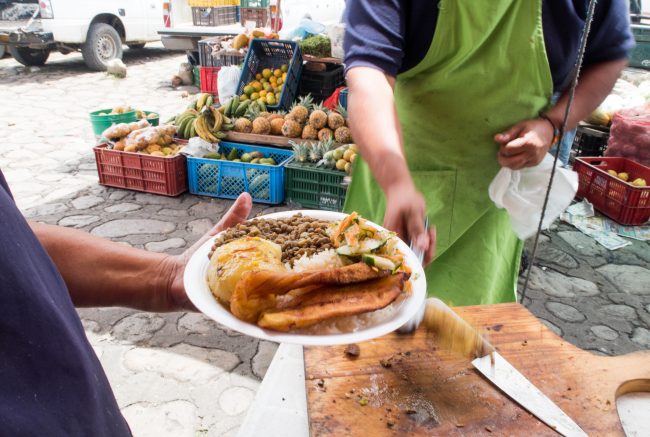 Casa Terracotta
Casa Terracotta is a giant piece of pottery, built as a home with functional electricity and bathrooms. This was entirely made of clay and baked in the sun! It was fun to check out the rooms and surrounding gardens. At 10,000 COP per person (as of June 2018), we thought it was probably worth it.
We took a walk from town, ~25 mins from the center.  If you go on a weekday or early / late in the day, you could have the entire place to yourself (which we did!)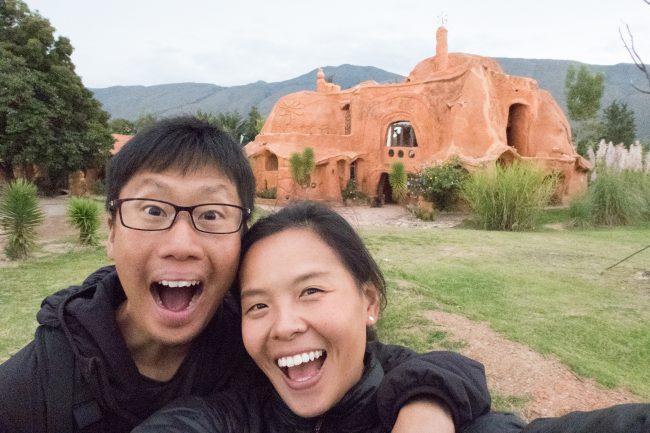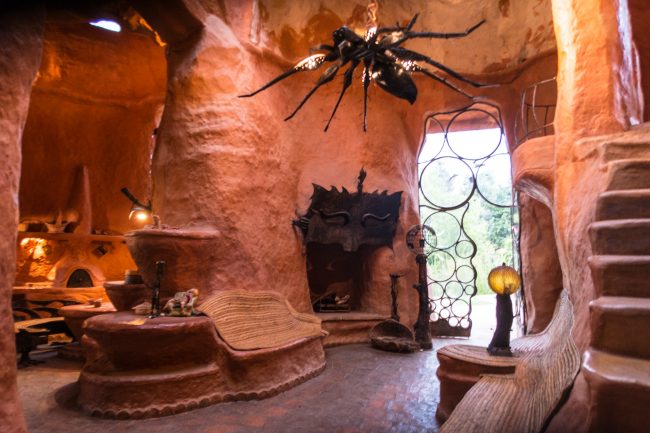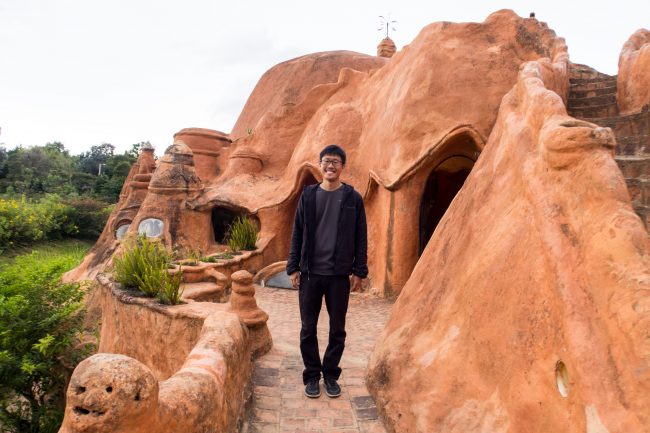 Pozos Azules
Blue pools! Needs no explanation! It's beautiful on a clear sunny day! So make sure to check the weather before you head out. 10,000 COP per person (as of June 2018).
Note that the location marked on Google maps (as of June 2018) is incorrect, so just follow these simple directions: Walk out of town on the same main road towards Casa Terracotta, instead of making a right into the street leading to Casa Terracotta, continue on the main road until you see signs for Pozos Azules (it's a big blue sign, you can't miss it). It's about 40 mins from the town, so don't fret if you don't see the sign, just keep going on the main road. It's a nice walk with nice views!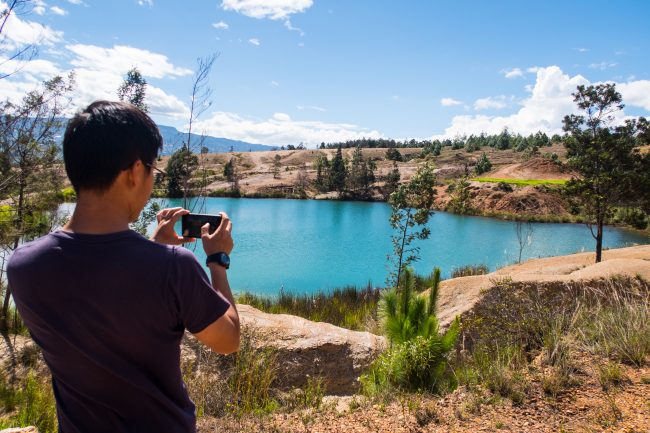 Mirador: Sagrado Corazon de Jesus
We wondered why this place wasn't yet one of the more popular places of interest in Villa – the view from the top is spectacular! It does require some scrambling on rocks, and good footwear (no sandals, please.), but a 30-45 minute climb up up up and you'll be rewarded. One of our favorite to-dos!
Also, most importantly, it's free!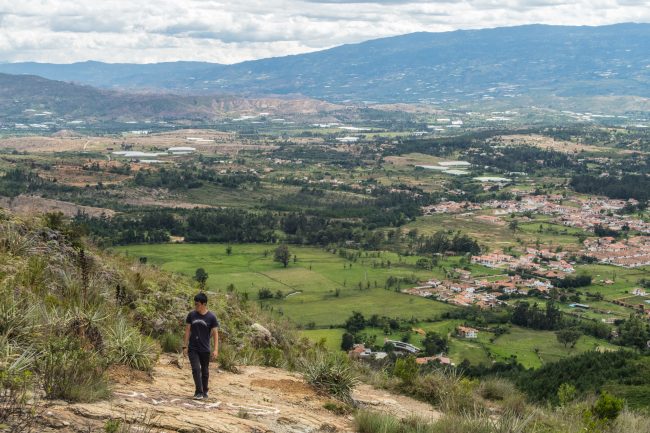 Spanish lessons and Cafe hopping!
Thanks to our Spanish teacher, who likes holding her lessons in different cafes, we got to try out the many cafes in Villa de Leyva. All of them are great to be honest – some of them offer better desserts than others but otherwise very nice to sit and enjoy some delicious goodies in the day.
Our favorites are: Pasteleria Francesa, Casadulce, Picaflores Cafe, Cafe El Jardin and La Galleta!
We loved our Spanish teacher, who helped us went from zero Spanish to knowing basic Spanish after two weeks. For her privacy we won't put her contact here, but do drop us a comment if you'd like to find out!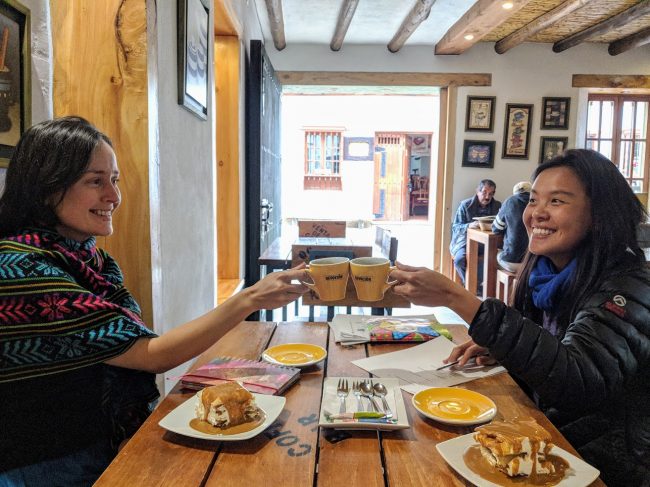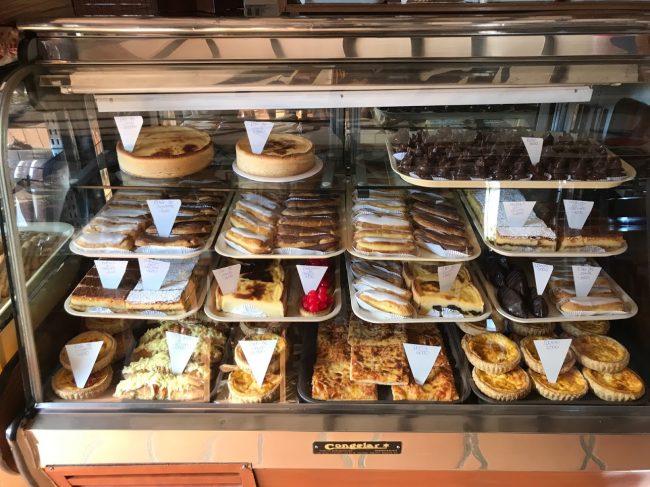 Honorable mentions
2 weeks was plenty of time in Villa, unfortunately learning Spanish came first, and we had to give these places a miss.
Parque Iguaque: there is a beautiful lake "Laguna Iguaque" to hike up to. It's a day-long affair, and we heard it's a 7 hour round trip from the base to the top and back. To get there without a car, take a bus from the bus terminal towards Arcabuco, and the driver will drop you off at Casa de Piedra, which is a 45min walk to the park entrance. Let the bus driver know in advance that you want to go to Iguaque and he'll know what to do!
Couple of vineyards in the area: we went to one briefly for our last lesson, but one could easily spend the entire day there to picnic and sip on wine. Don't go walking on the cobble-stoned streets after though. You'll probably need a vehicle to get there, so ask the bus terminal or grab a cab from there
Let us know what else you'd like to know or see more of! Drop your questions / comments below!
You May Also Like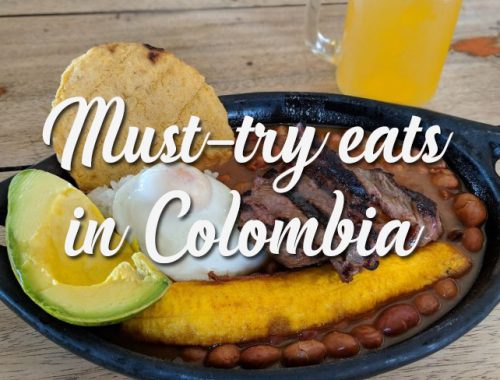 May 13, 2019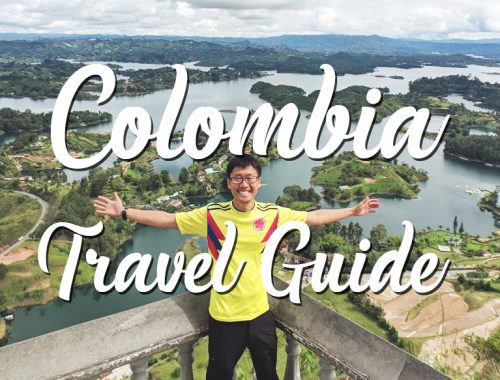 January 19, 2019