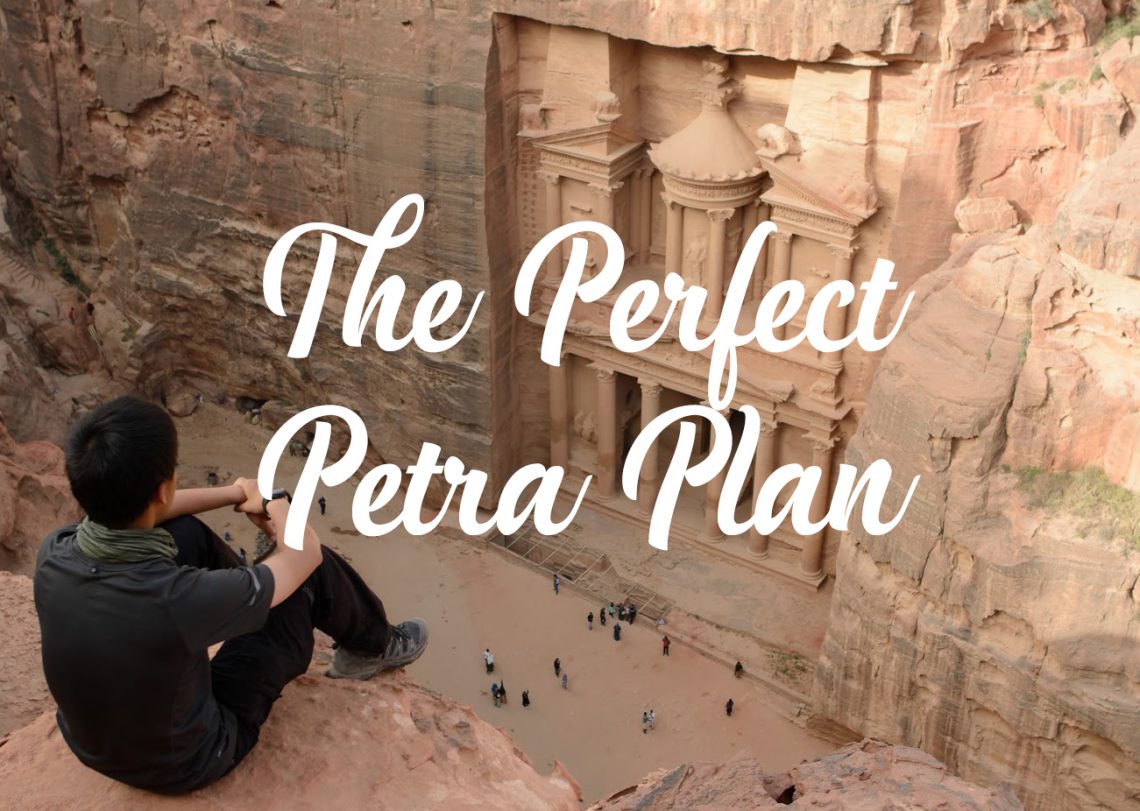 The Perfect Petra Plan
September 19, 2018
P

ointless

P

rologue
We are particularly passionate about picturesque Petra primarily because of its perfectly pristine plaster pillars… just kidding. We are practically Petra prophets partly because of the phenomenal panoramas, plenitude of peace and perspective, and because of the perfect plan we had personally painstakingly produced. This post prescribes what we think is the perfect plan, in 2 days, to fully experience Petra.
---
First a little background: we're active trekkers, so we weren't fazed by walking for two full days in the desert. Generally we're travelers who seek to experience it all, in the same way locals do, to the greatest extent possible – so there are no luxury dining or accommodations in this Perfect Petra Plan. We also try our best to avoid large groups of tourists, so you'll find that our timings are quite different from usual itineraries (we visited in April 2018).

So where did we stay?
There's a local village called Umm Sayhoun to the north-east of Petra, where we stayed and upon arrival were greeted by the friendliest locals & kids. Umm Sayhoun is actually located very close to a less, well-known back entrance into Petra and to the Monastery, which was a key factor in how we formulated our itinerary (more on that later).
We found this place on Airbnb! (Psst, if you're not yet signed up, use our link to get $40 off your trip! It helps us out as well!)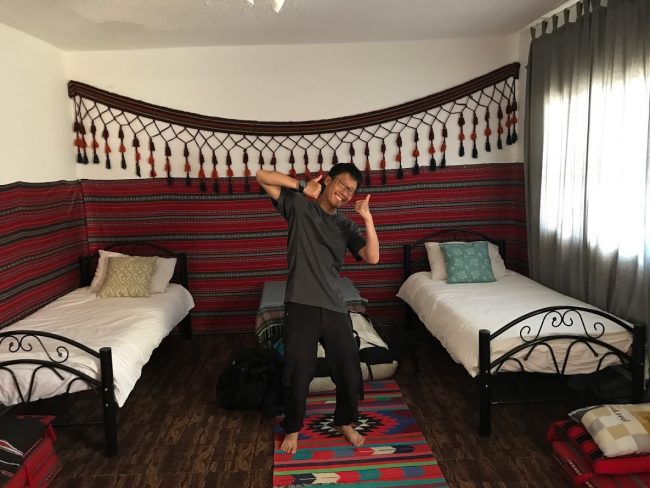 One day or two days?
In our opinion, Petra is too grand and gorgeous to fully experience in one day. If you're trying to get in and out for a quick Instagram photo, one day will suffice. But if you're looking to soak it in and experience the magical energy that is Petra, you should spend at least two days.
During the night we stayed, we had an amazing Bedouin barbecue in the desert while watching the sun cast strange shadows across the rock formations as it set – we will always cherish that incredible moment. Again, more on that later!
Why is Petra so confusing to research online?
Petra, or even Jordan doesn't really lend itself to extensive and accurate internet research. You'll find that the same places or hiking trails have different names, and that the times required differ between sources. We learned a lot by speaking with the locals (another reason to stay in Umm Sayhoun!) and we'll do our best here to demystify the confusion. It will help immensely to know both the English and Arabic names of different sites, which we try to include in this post, so you can ask for directions if you get lost there.
How is this itinerary different?
It squeezes in the best of Petra (in our opinion) into 2 days, is affordable (no need to pay for a guide, or a donkey ride), avoids timings of tour groups, and allows you to experience authentic local Bedouin charm.
Lesser known things you should be aware of?
If you haven't already, read up on the Bedouin romance scam. It was quite an entertaining read and while we didn't run into any issues, we were aware and kept our wits about ourselves.
Highlights referenced will be marked on the below Google Map
Day 1
Highlights:
Explore Petra avoiding crowds from tour groups arriving in the late morning
Catch the Treasury (Al Kazneh) first thing at opening
Al Khubtha or "Above the Treasury" hike with amazing photo opportunities
Explore the Royal Tombs
Hike the High Place of Sacrifice (Jebel al Madhbah) trail
Local BBQ dinner in Little Petra
The park opens at 6am. We left Umm-Sayhoun to drive to the main entrance at 5.45am. We got there just before, and in reality the gates only opened at about 6:15am. It took us ~20 minutes to walk from the visitor entrance to the Treasury. It was mainly downhill, so the walk out of Petra will take longer. The path is almost mystical as you pass through beautiful narrow passages (the Siq), awaiting to be greeted by grand imageries conjured from watching too much Indiana Jones.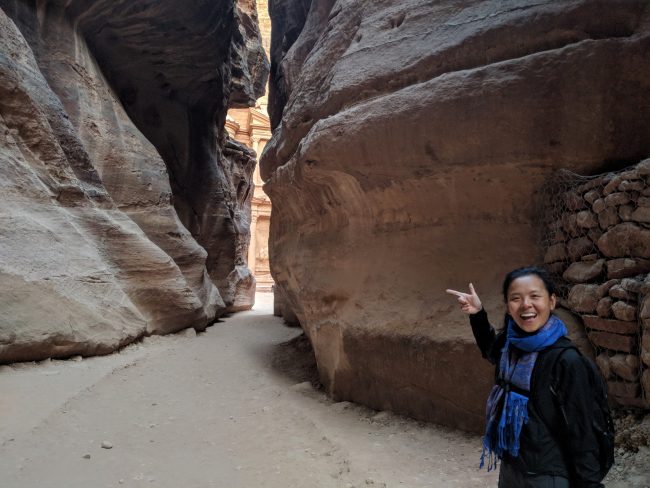 When we got there, there were two other couples with us. We got to take some photos by ourselves for a few valuable minutes.

Next we did the Above the Treasury (or Al-Khubtha) hike, which was one of our favorite trails here. The entrance is just after the Royal Tombs, so as you're walking in from the entrance, you'll make a right after the Royal Tombs. This one is free, so don't let anyone fool you into "guiding" you there. It took us ~30 minutes to get there (we didn't stop much on the way up). Reserve ~2 hours for the hike up and down, including time for photos. The trail may not be easy to follow, so look out for cairns / stacked rocks as trail markers.
Note that there exists another trail that brings you to a different "above the Treasury" view point – to get here, you make a left instead of a right from the Treasury. We didn't get to explore this one, but we could see the trail from our vantage point and the views didn't look as nice, albeit it gets you closer to the Treasury.
When we got there we went into a Bedouin tent to capture this awesome view of the Treasury. No one was at the tent, as it was still early (~8am), so we didn't have to patronize by purchasing a drink at the tent in exchange for nice photos (Someone finally came at 8.30am. By then we had already left but still exploring the trail nearby). Interestingly, locals tend to leave their tents / souvenir shops unattended to overnight.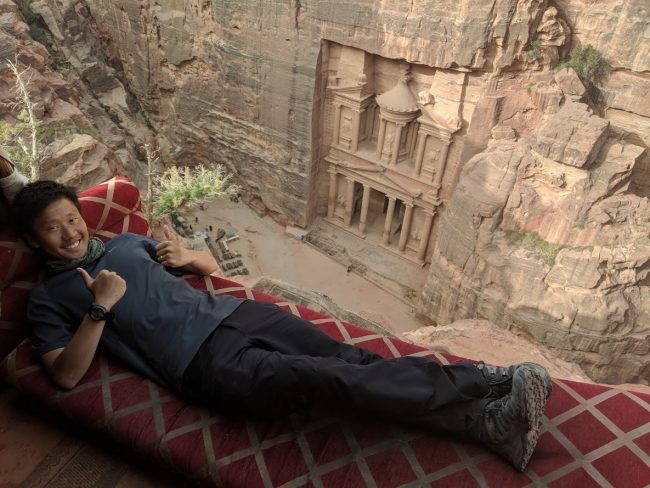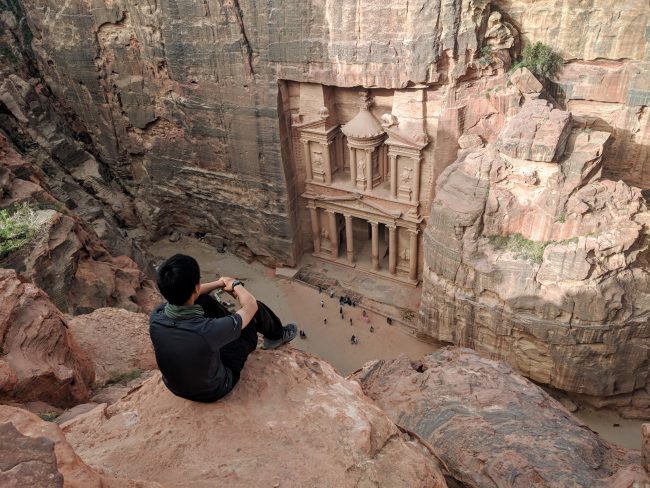 As you get back down, take some time to explore the Royal Tombs. You could also check them out before heading up to Above the Treasury, but we chose to head there first to capture some photos and enjoy the views in peace and quiet.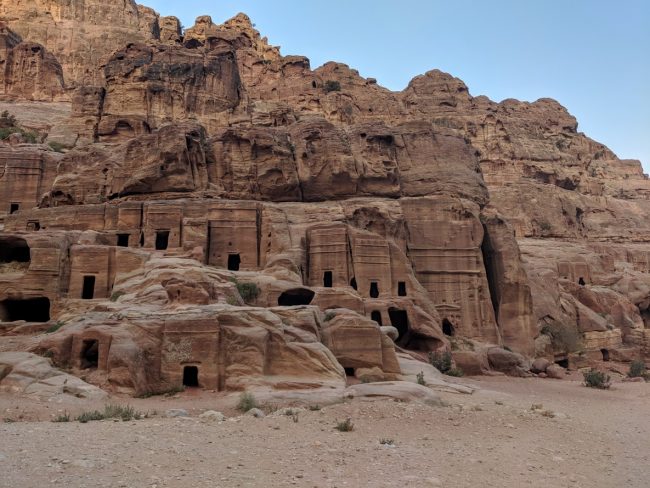 Onto an important point: food! Food and water are ridiculously expensive in Petra, so bring your own! We generally ate whenever we felt hungry and brought with us some fruit and a small picnic for lunch.
The last trek we did on day 1 was to the High Place of Sacrifice (Jebel al Madhbah). This trail takes around ~2 hours round trip and was a pleasant climb (~40 minutes) onto the other side of the main trail. Although by this time, it got pretty hot and the place was pretty crowded. Look around for drains which purportedly were used to drain the blood from sacrificial ceremonies.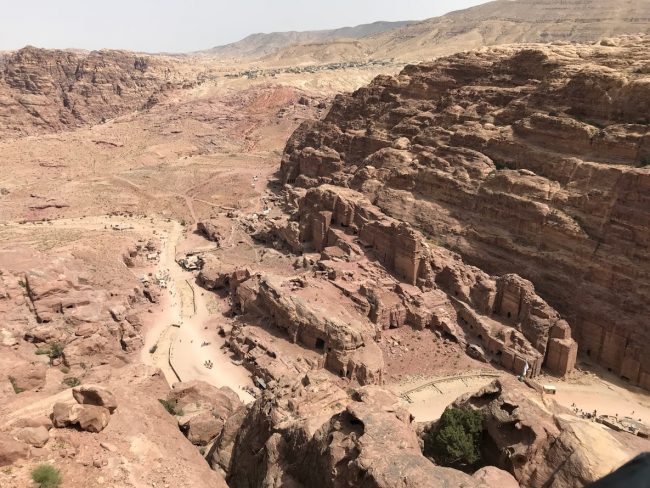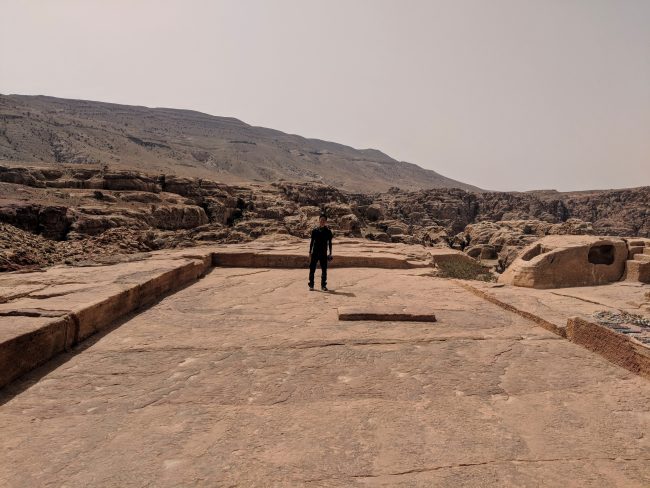 From here, we strolled through Petra and visited other sites along the main trail (Street of Facades, Theater, Colonnaded Street), then headed out the back entrance to return to Umm Sayhoun (~2 hours).
Finally, to end day 1, we had dinner with our host, Salim, who knew the desert like the back of his hand. He drove us to a quiet spot in Little Petra, started a fire and made us an awesome campfire dinner, while we gazed at the stars. It was.. amazing. Unfortunately we didn't know where this was on the map – you'll just have to go with a local!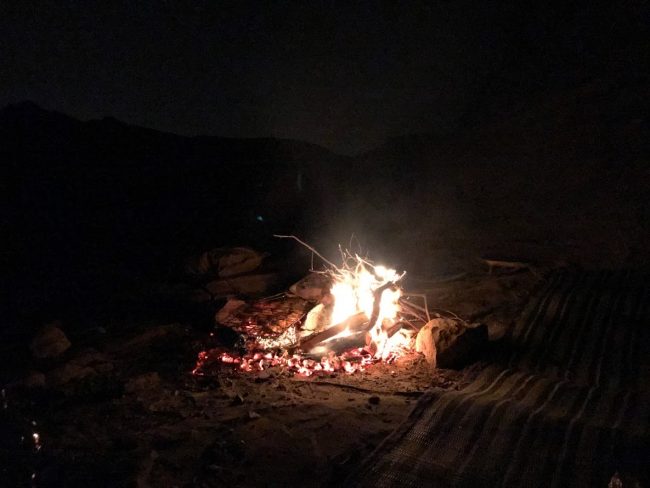 Day 2
Highlights:
The theme of today is "exploring Petra as if there was no one else around"
Morning views of the Monastery (a.k.a., Ad Deir / El Deir / Al Deir)
Trek to the highest point in Petra, Umm al Biyara
The highest point in Petra, Umm al Biyara, is a rather exhausting climb especially when factoring in the heat. But the reward is that almost nobody else does this trek, so you'll most likely be wandering around Petra alone, just as the Bedouins did once upon a time. That said the views were not particularly mind-blowing so we'd suggest doing this trek primarily for the enjoyment of trekking in the desert (and bragging rights!)
Before we get ahead of ourselves however, we must first visit the Monastery – in our opinion, the most beautiful structure in all of Petra (yes, we think it's more gorgeous than the Treasury). Like yesterday, we started today at 6am.
The magic of our itinerary is that we spent the night at Umm Sayhoun, so we walked into Petra via the back entrance and got the shortest route up to the Monastery. We've marked this on our Google maps (see above, or go here)
Disclaimer: When we went to the entrance and showed our tickets, the security did verify that we had entered the park via the main entrance the day before. We're not sure what would happen if we had gone via the back entrance on day 1. The difference between the two was that the security at the main entrance verified our tickets with our passports, but the security at the back entrance didn't.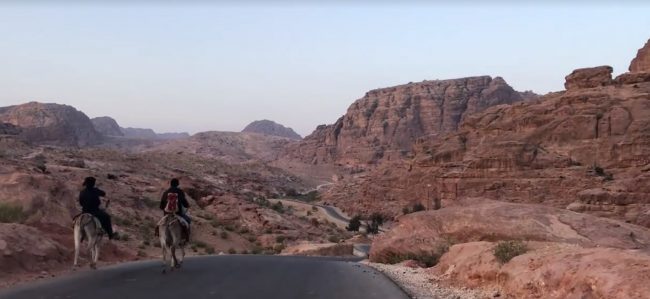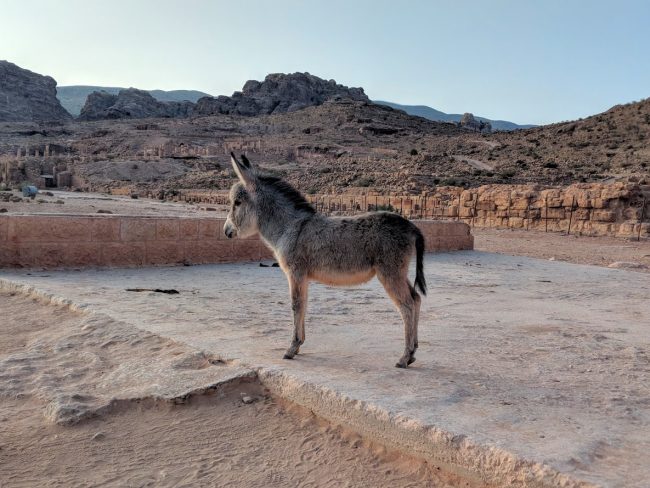 It took us ~35 minutes from the bottom of the steps (close to Petra museum and the Crown Plaza restaurant) to climb to the top. As we had hoped, there was absolutely no one else when we got there, not even the locals. The walk from Umm Sayhoun village to the Monastery took under 2 hours, but don't forget from here you have to walk back down to Petra museum to get back onto the main trail (<1 hour).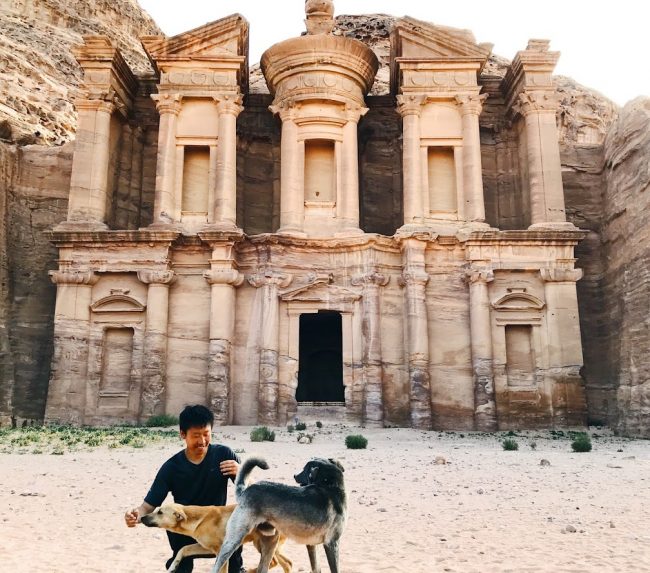 There's a view point higher up for a wider landscape view of Monastery.  The trail was easy to find. There was, again, a Bedouin tent at the view-point, but unattended to at the time we were there (8 – 8.30am)

After taking a short break, we started our trek to the highest point in Petra, Umm al-Biyara. The entrance to this trail is just behind the Temple of Dushares (Qasr Al-Bint), which is located next to the Colonnaded Street. The trail was not easy to find and follow, so we've marked the way on Google maps for reference (see above, or go here), from Temple of Dushares to the start of the steps (and from there, climb the steps until you reachthe top, ugh). Two way points to look out for: a lone column, and a Bedouin family, (both marked in our Google maps link) You could ask the family for directions if you get lost – a little girl there gave us directions in exchange for cookies!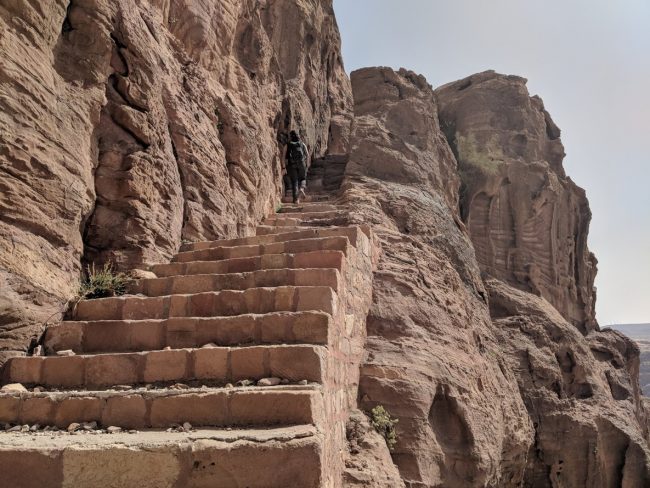 Umm al-Biyara is also known as the Mother of Cisterns, so you'll see many beautiful rock formations sculpted by water erosion as you explore. By this time, the sun was in its apex so take your time to climb and enjoy the views. There isn't much shade at the top, so make sure you stay hydrated the entire time. We found a bit of shade under a (bare) tree for a picnic.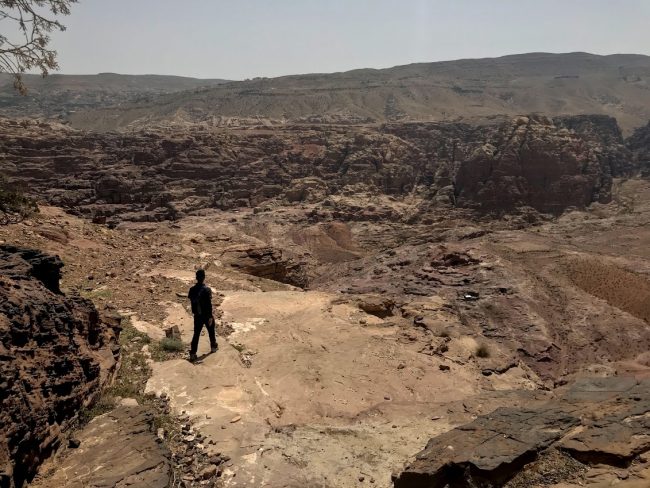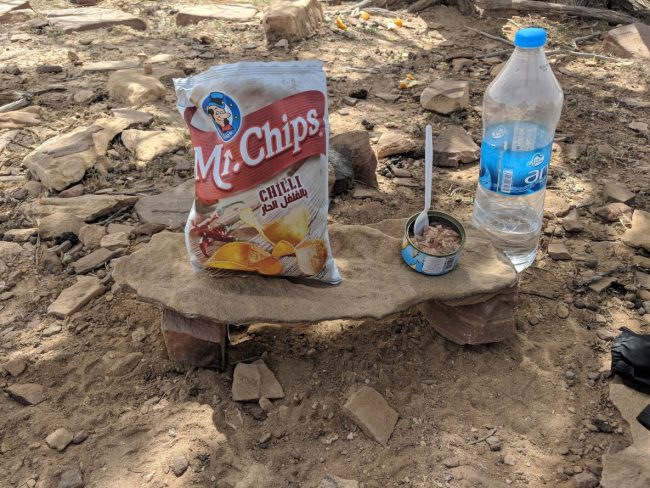 When we were done taking in the amazing feeling of being at the top of Petra, we began venturing down. At this point, our time in Petra was receding along with the sun's trajectory, which gave us some time to slowly contemplate… the ridiculous uphill climb back into Umm Sayhoun. Sigh, at least we'll get to soak in the Dead Sea next!
Final advice?
While it's great to say that you've seen it all in Petra – don't let rushing to get to the view points stress you out. There's a chance you may get lost, and find yourself wandering off somewhere else. Don't worry and just enjoy it! The beauty of Petra is that wherever you go, you'll find something to explore – beautiful formations, an unexplored cave, colorful sedimentary rocks, etc. Don't be afraid to get off the beaten path and uncover this beautiful ancient city your own way.
Just remember to bring food, water, sunscreen, a hat, and a very positive attitude!
Enjoy!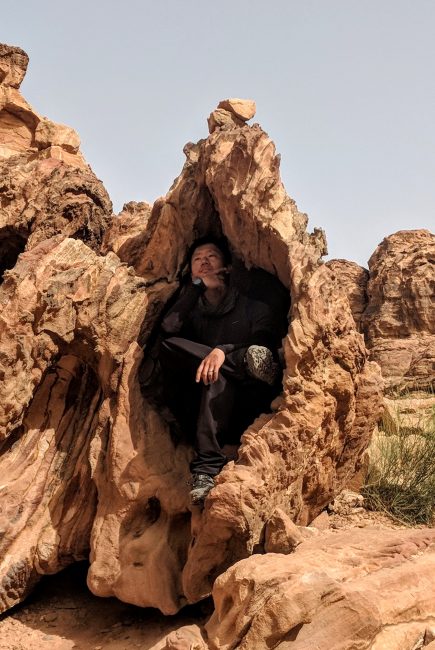 Have more questions? Leave us a comment below!

You May Also Like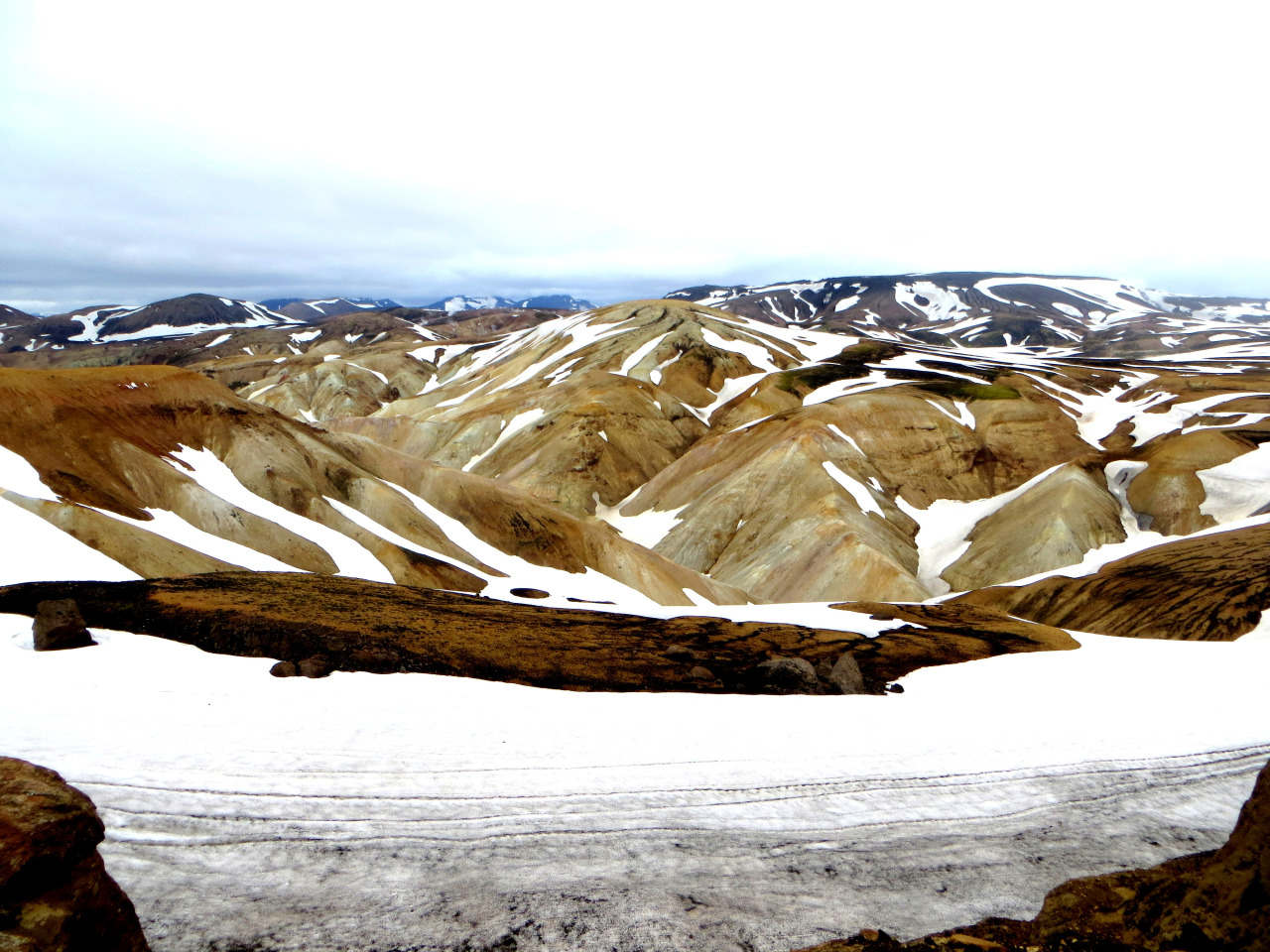 August 8, 2015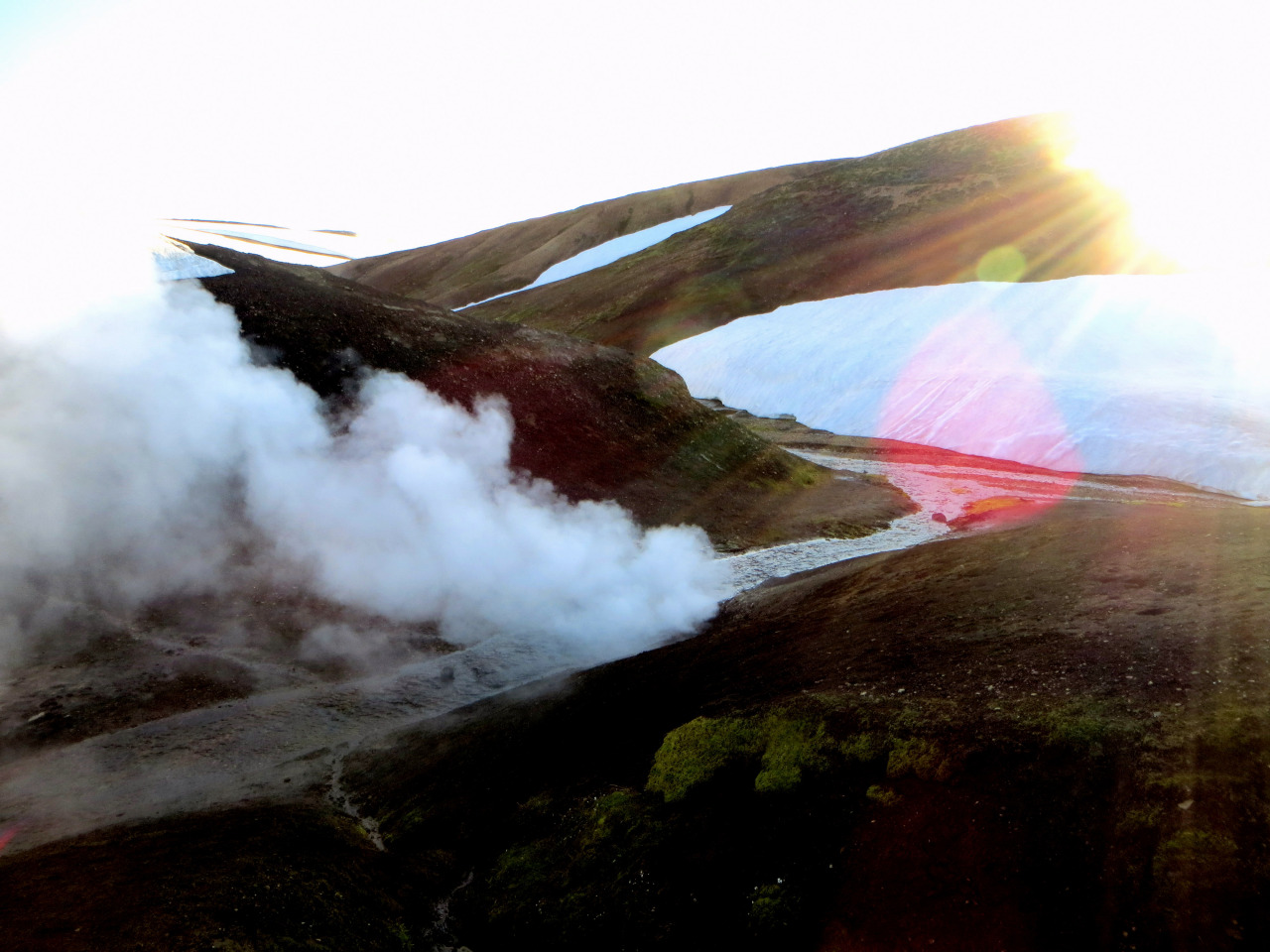 August 8, 2015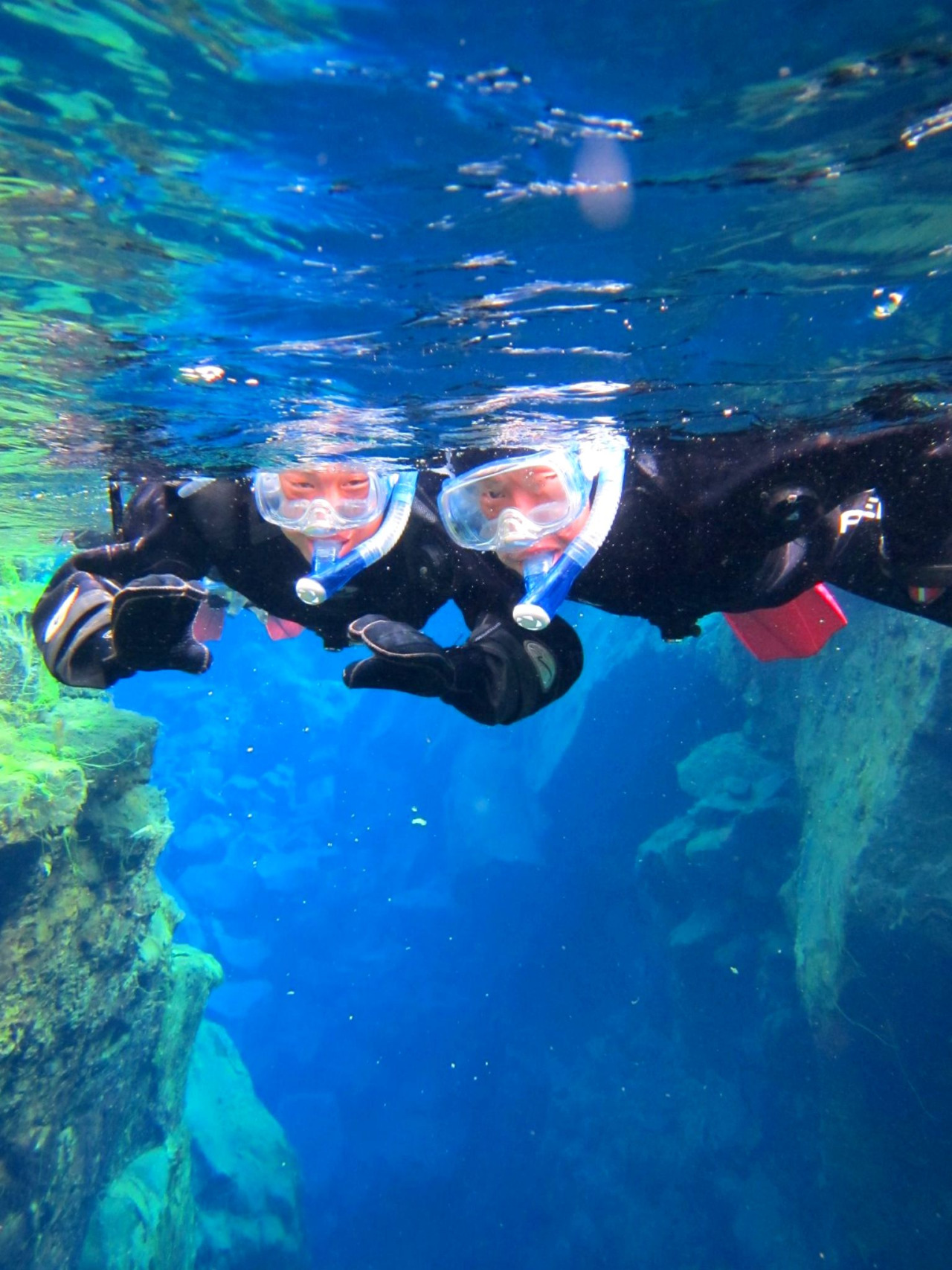 August 15, 2015