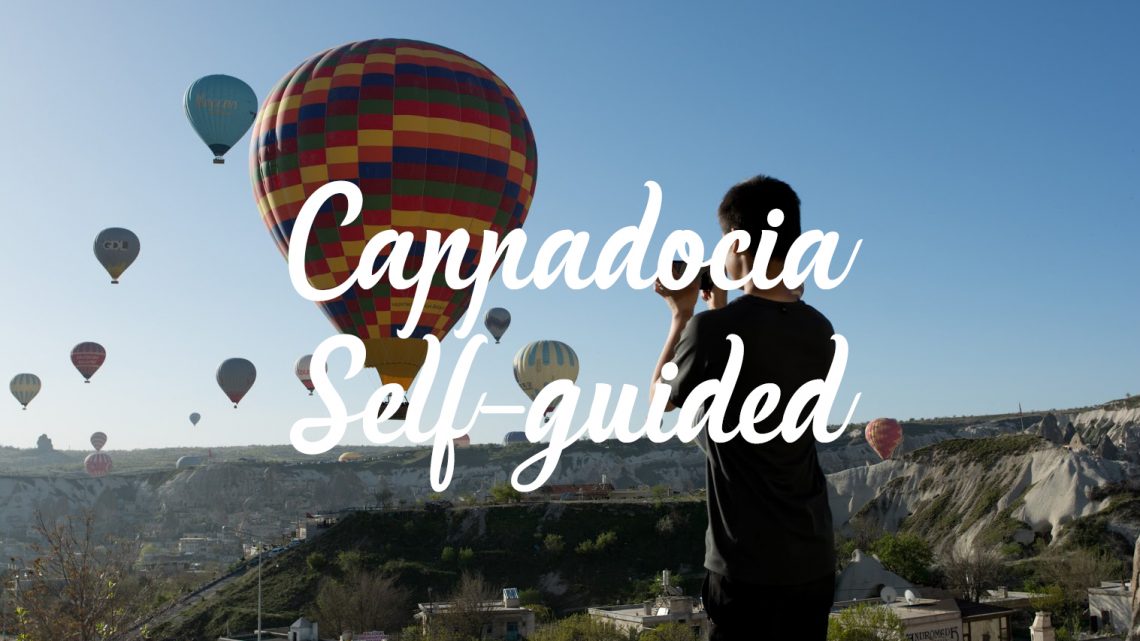 Full day in Cappadocia – Self-guided
September 10, 2018
From photos Cappadocia looks so otherworldly. Colored peculiar rock formations, mysterious cave churches and… hot air balloons.  Cappadocia is almost certainly a must-do when visiting Turkey.  With a full day, you can get some hiking in, explore different areas and types of rock formations, take some insta-worthy photos of the hot air balloon launch, without paying for a guided-tour!
We realized that information about the hikes and points of interests were not readily available, instead you may be bombarded by tour companies or hotels trying to sell you guided tours.  We're here to help you tour Cappadocia on your own!
On this page: Highlights of Cappadocia + Map, How we saw it all in a day, Getting there and where we stayed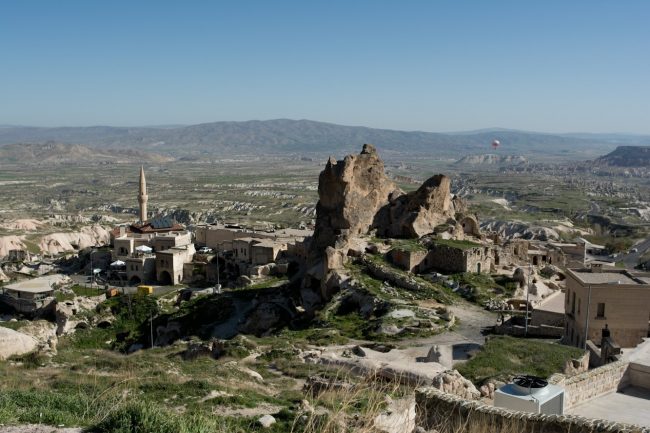 Highlights of Cappadocia + Map
First, an intro of the area and points of interest. We've also marked them on Google Maps below to give you a bird-eye's view of their locations.
Towns / villages: 
Goreme: Main town in Cappadocia. Drop-off / Pick-up point for most buses to and from other cities in the region
Uchisar: Famous for the Uchisar castle, out of an enormous rock with many rooms carved within it, sitting on top of a hill
Cavusin: Tiny village nearby rose and red valley
Urgup*: Some handicrafts and small shops, a bit out of the way from the main attractions in the area
Ortahisar*: Similar to Uchisar, it also has a tall rock castle sitting on top of a hill
Rock formations / hikes (the "Valleys")
Note – there is a general lack of information about where and how to hike these valleys. Even after grabbing a (basic) map from our hotel and asking the visitor center, we were still left confused as to where the trailheads are. Trails are easily spotted but not well-marked, with little to no sign posts. It'll be helpful to have Google maps or an offline maps app on your phone to help with basic navigation, or to at least know which direction you are walking towards.
Love Valley: Phallic rock formations. 'Nuff said
Red/Rose Valley: It seems that both the red and rose valleys are in the same area, and names are used interchangeably. These are the pretty gradient-colored and pink rock formations
Pigeon Valley*: Apparently houses many pigeons, but from pictures the rock formations didn't seem as interesting as those in Love or Red/Rose valley. We gave this a miss given time constraints
Attractions
Open air museums: There are two open air museums in the area – Goreme and Zelve* air museums for touring cave homes and churches. We went with Goreme given the entrance fee was covered in our Museum Pass. 
Underground cities*: There are two UG cities in the area – Derinkuyu and Kaymakli. Given time constraints we gave these a miss. They are located to the south of Cappdocia
View points: There are a few of these in Cappadocia, and names are used interchangeably (by locals, tourists, even where they are located on Google maps) adding to the confusion. We went to (one of) the sunset view point – we've marked the location on our Google maps link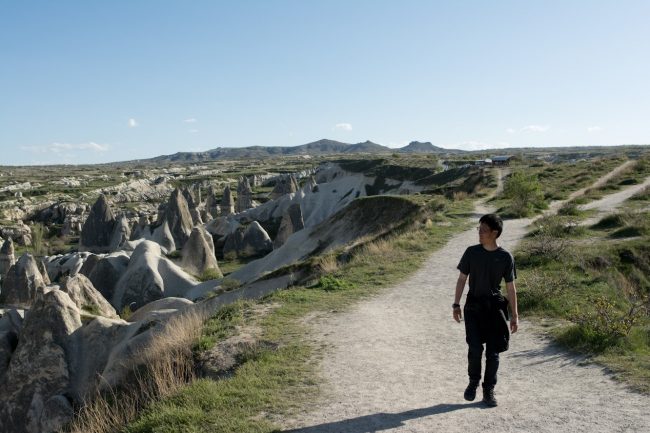 Cappadocia: How we saw it all in a day
When we were there, we arrived late afternoon the night before. This is important because your day will start bright and early, before sunrise!
Pack: Water bottle (IMPORTANT! It gets very hot during midday), packed breakfast and lunch, and some snacks!
6.30am: Sunrise at Sunset View Point, Hot air balloon launch
The sun rose at about 6.30am in April. Our hotel was a ~20-25 minute hike there, so we got up before 6am.  This spot offers a panoramic view of Goreme. Along with a view of the town, you can see rock formations of Love valley, rose / red valley and the city of Uchisar.
Tip: We heard that hot air balloons launch at dawn. However, after waiting for almost an hour, we failed to see any balloons floating in the sky. Till this day we are not sure what the reason was. However while walking towards Uchisar, the balloon launch started, and we were able to quickly scramble up a hill to capture some photos. Honestly the hot air balloons can be viewed at many different points in Cappadocia, so I wouldn't worry if you are not able to make it to a view point for some good photos. There were so many of them in the sky and all around. You will be able to see them by just chilling at the rooftop of your hotel as well.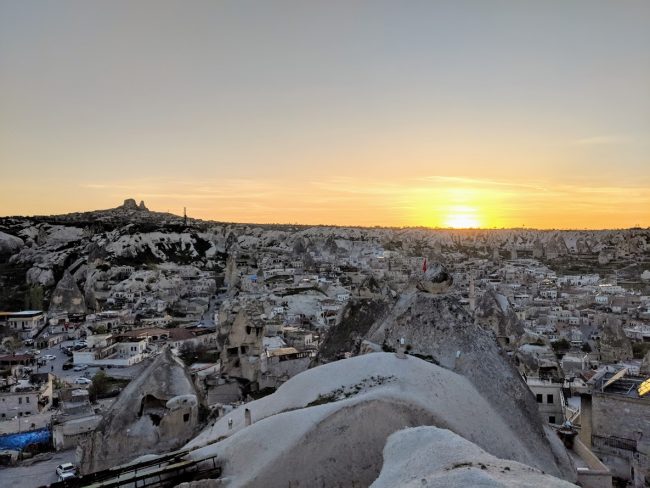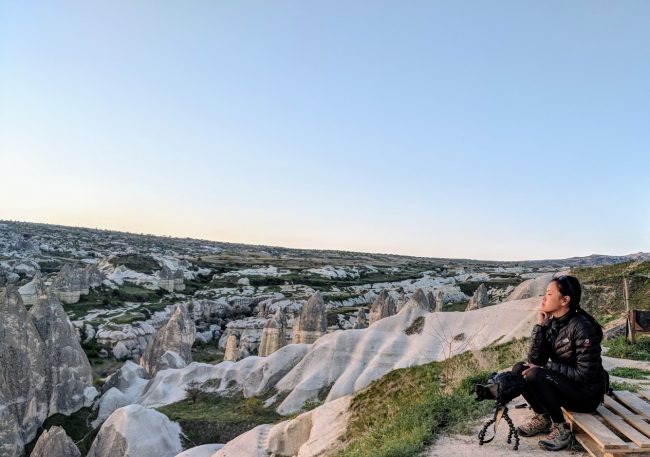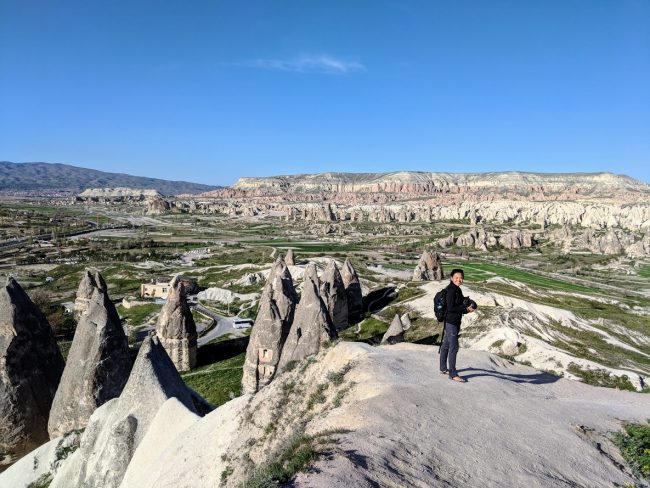 Bonus Tip: Sunsets in Cappadocia are gorgeous as well, as the colors reflect on the rocks and you watch the lights turn on throughout the town of Goreme. If you have time the night before, it's worth coming to the view point for some photo-taking.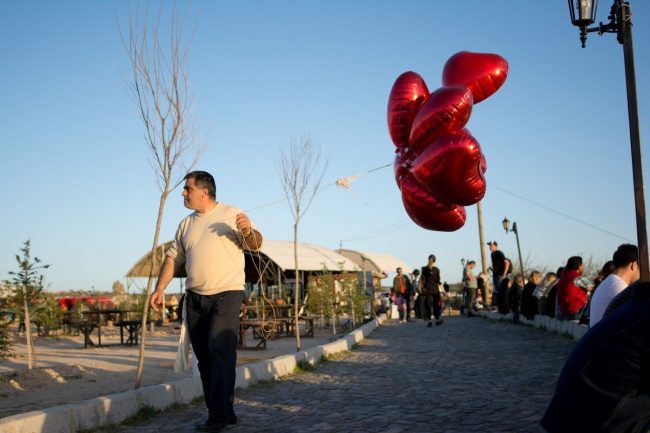 7.30am: Walk towards Uchisar, Hot air balloon photo-taking 
After being disappointed by the lack of hot air balloons at dawn, we started walking along the road towards Uchisar from Goreme (South-west direction), which was easy and safe enough to follow.  After ~10 minutes we turned around and saw the balloons launching in the sky, and excitedly scrambled to get on a high ground to snap some photos. We were also joined by an adorable dog.  The bonus of catching the hot air balloons at this location is that it was actually on route to their landing spot, so the balloons got ridiculously close to us!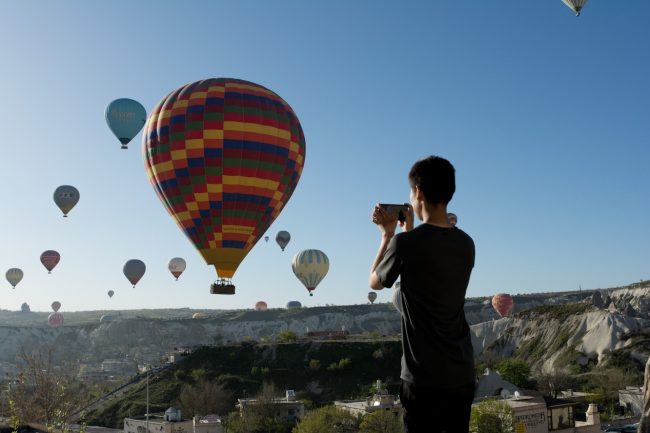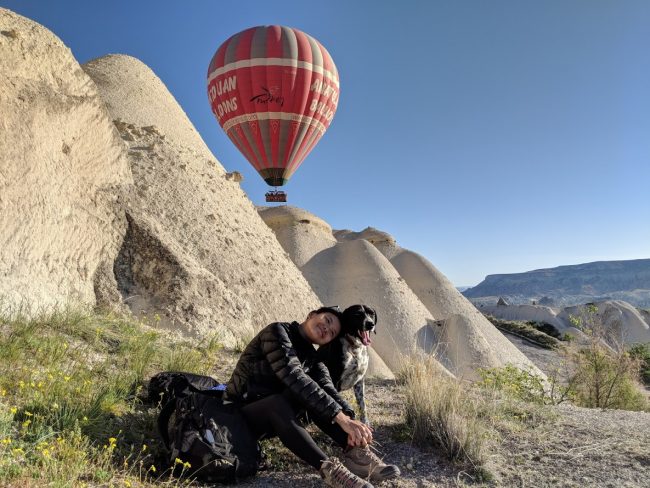 We continued walking towards Uchisar as we spotted more balloons launching along the way. We even passed by a panoramic view point along the road, which seemed like a great photo spot as well.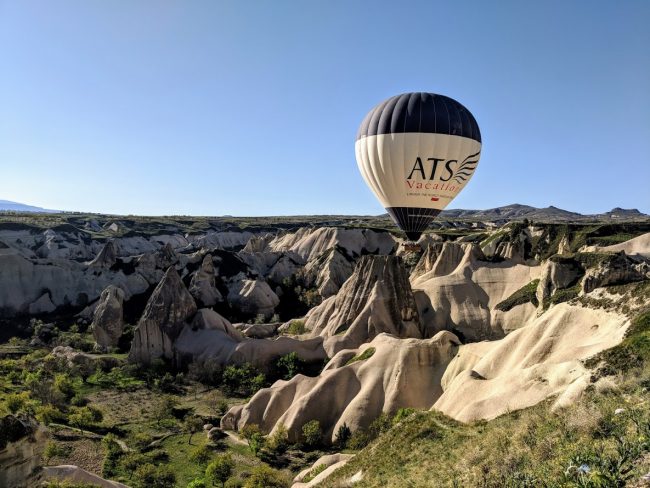 9.30am: Explore Uchisar
After ~45 minutes of walking on the road we arrived in Uchisar. We also found this cute little cave house near the entrance!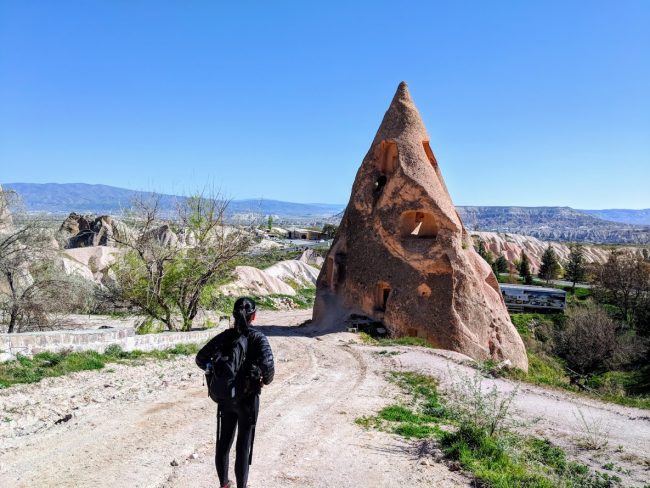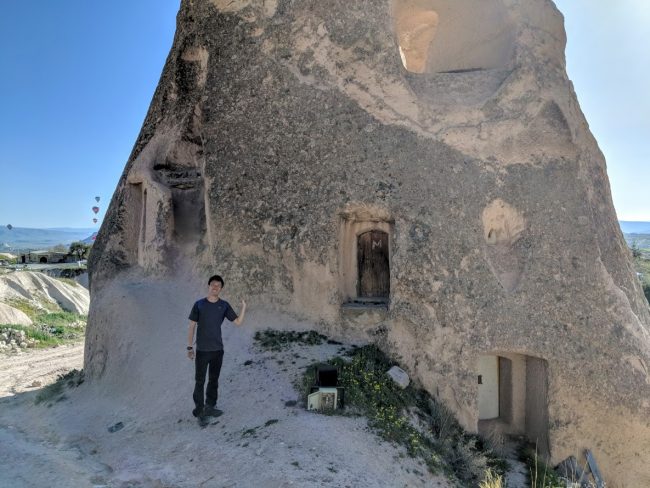 We didn't feel there was a need to pay the fee to visit the Uchisar castle. We instead explored the cave houses around it, and walked around the town for a little bit.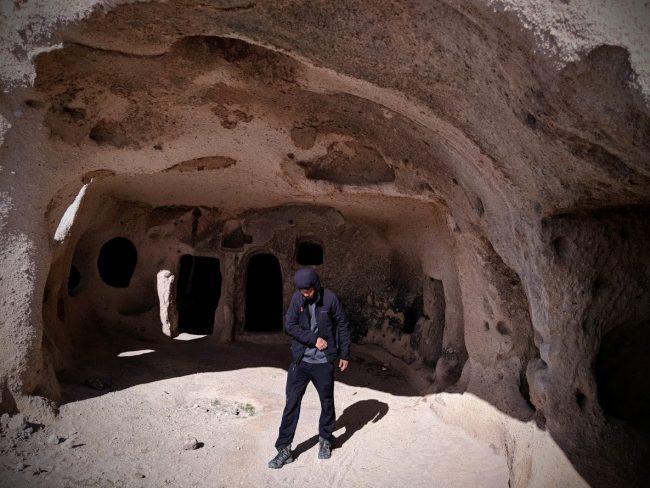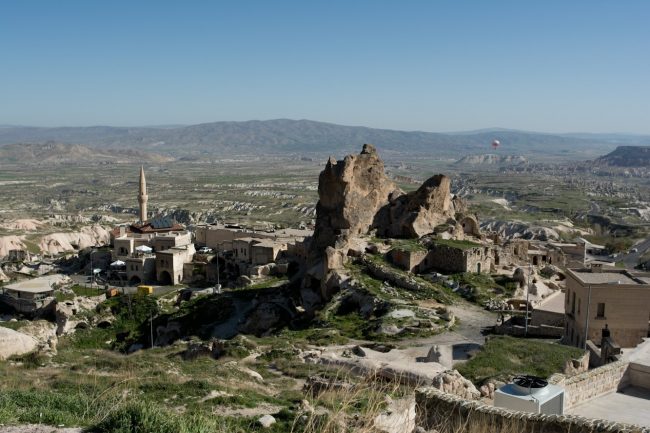 10.30am: Grab a snack, walk towards Cavusin via Love Valley
We grabbed some nuts and dried fruit from a food vendor in Uchisar, snacked on some and hydrated as we enjoyed the view from the top of the hill.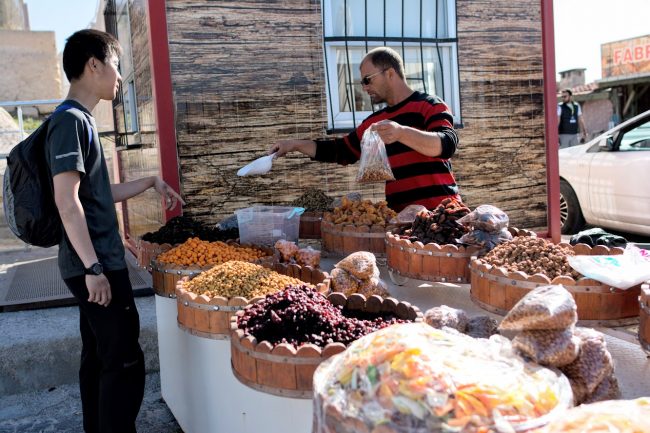 Next we exited the same way we came in, except we kept left when the route splits into two (at the junction you'll see the Ozler Art Center). You'll now be walking North towards Cavusin.  After 5 minutes or so, we met a vendor selling pressed pomegranate / orange juice, who pointed us to a trail to the left of the road leading us to Love Valley.
Side note – we did have an unpleasant experience with the vendor. He tried to sell us some pomegranate juice. We said sure, and he went ahead to make some (we saw that he mixed the pomegranate juice with orange juice.. Sneaky) and handed us two VERY VERY SMALL cups of juice. Initially, we had thought he made one portion but divided it into two portions, and hence paid him the price for one cup. He then said we had to pay for TWO cups of juice. The price per cup was very expensive, about twice the cost of a (much bigger) cup of pom juice in Istanbul. We then explained we only want to buy one cup, and he appeared visibly upset when we handed him back the other cup of juice. He said, in a very upset tone, that he already made both. We stayed firm, and refused to pay up for a second cup. He raised his voice, insisting we HAVE to pay up, and even demanded to see our wallets for the money. After much back and forth, we angrily gave both cups of juice back to him, and said he could keep the money for just one cup, but there's no way we are purchasing two cups of juice. That was when he went silent, looked almost guilty, and thrusted one cup of juice back into our hands, and ushered us to get lost. 
Anyway… moving on.
The initial section from Uchisar was quite sandy and slippery going down. Love valley wasn't difficult to navigate, but keep an eye on Google maps or any GPS app on your phone to make sure you are going in the right direction, given there are no trail markers or signs.
12.30pm: Explore Cavusin, discover Red/Rose valley 
Cavusin is a quiet little town. We ate our packed lunch and bought some ice cream from the snack shop to cool ourselves down from the scorching sun.  There are also a couple of cave churches in Cavusin to explore (we're not sure if there's an entrance fee involved, though).
We then wandered towards the red/rose colored rocks, asking the locals for directions to red and rose valley along the way. Within a 5-10 minute walking into the valley you'll see some cave houses amongst these beautiful rocks. We took some time to see a few of them, but the heat got the better of us as we decided to catch a transport back to Goreme, instead of walking there. (FYI, you could also walk towards Goreme via red/rose valley, which should take ~1.5 – 2h).
Our ride was 10TL, which at the time seemed well worth-it because we were exhausted from the sun and not feeling too good. We couldn't wait to grab an ice cold drink back in Goreme.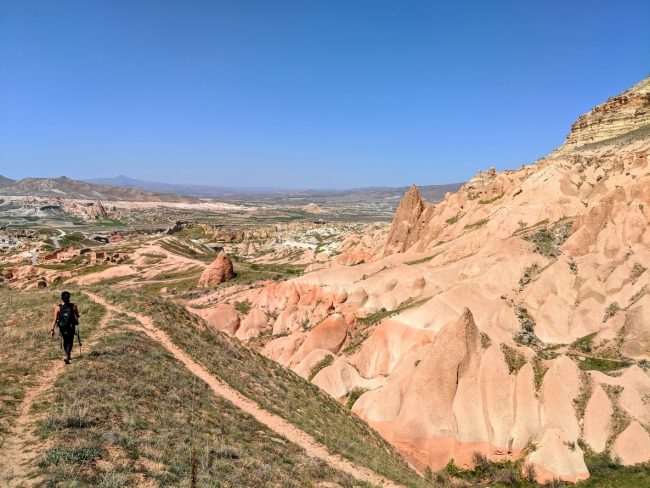 2pm: Back in Goreme, walk to Goreme Open Air Museum 
Once back in Goreme, we grabbed a couple of sodas and rested our weary feet. Then, we walked to Goreme Open Air Museum, which took ~20minutes. The museum was a bit crowded at the time. We loved the cave churches and the beautiful paintings in them. Also interesting were the tunnels and passageways in the cave houses. We had a great time exploring the museum.
We didn't take as many photos because by now we were surrounded by other tourists. But we would highly recommend visiting.  You will not need to pay a guided tour for this museum – it was easy enough to walk around with the maps and signage, as well as boards explaining each structure or building.
4.30pm: Time to rest after a walk back to Goreme
The final walk back in Goreme means our legs can finally rest. We went back to our hotel and collected our belongings, and even washed up a bit before we went out to grab a bite while we wait for our 8pm bus to Pamukkale.
It was well worth the 20,000+ steps taken. If we had more days we may have done a few more hikes and explored the underground cities in the area, but exploring Cappadocia in a day was still very fulfilling. We didn't feel like we missed anything important!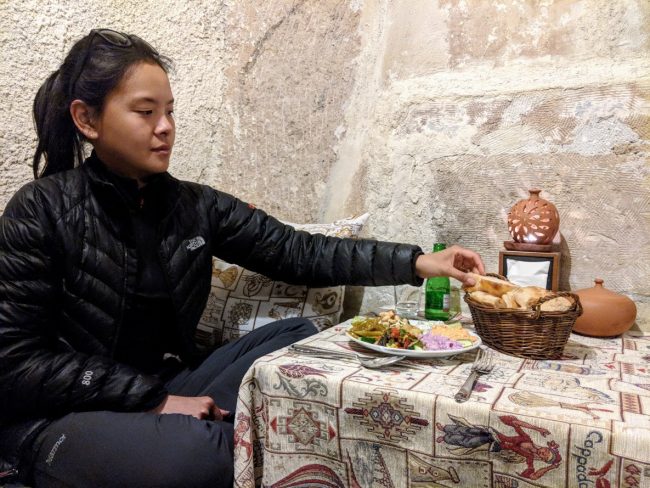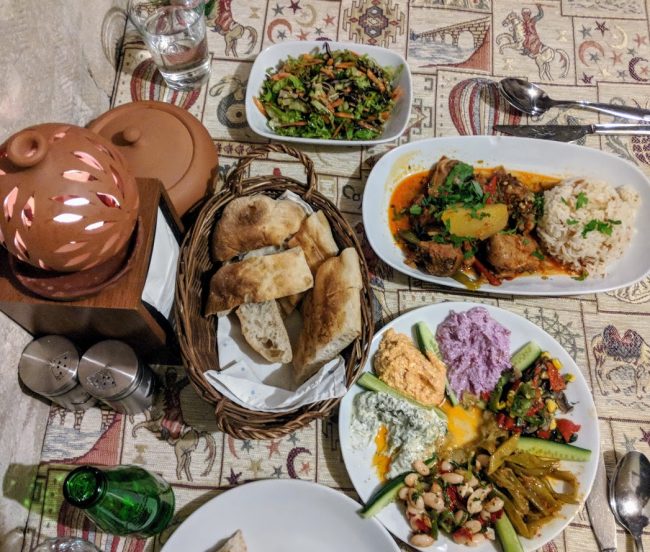 Getting there and where we stayed
Getting there: We flew into Kayseri airport from Istanbul Atatürk (~49USD). then booked an airport transfer online in advance to get into the main town in Cappadocia – Göreme (30TL / ~8USD).
Getting around: You could hike from town to town if you have the time, or take the minibuses (dolmus) / taxis to get around. We saw dolmuses leaving from near the welcome center in Goreme. The bus companies are also located there if you need to buy a ticket to another city (e.g., Pamukkale)
Where we stayed: Staying in a cave hotel is definitely a highlight! However, keep in mind that the authentic cave houses may be underground, and hence there are no windows in your room. We didn't find that to be a problem. Some hotels have rooftops where you can also take beautiful photos of the surroundings, and even the hot air balloons in the morning!
We stayed a night at Bedrock Cave Hotel (190TL / 48USD). They let us keep our bags there while we explored Cappadocia in the day. They also have a nice rooftop deck!
Psst, use our booking.com link to get 25USD off your booking (which helps us out, too!)
Have more questions? Drop us a comment below!

You May Also Like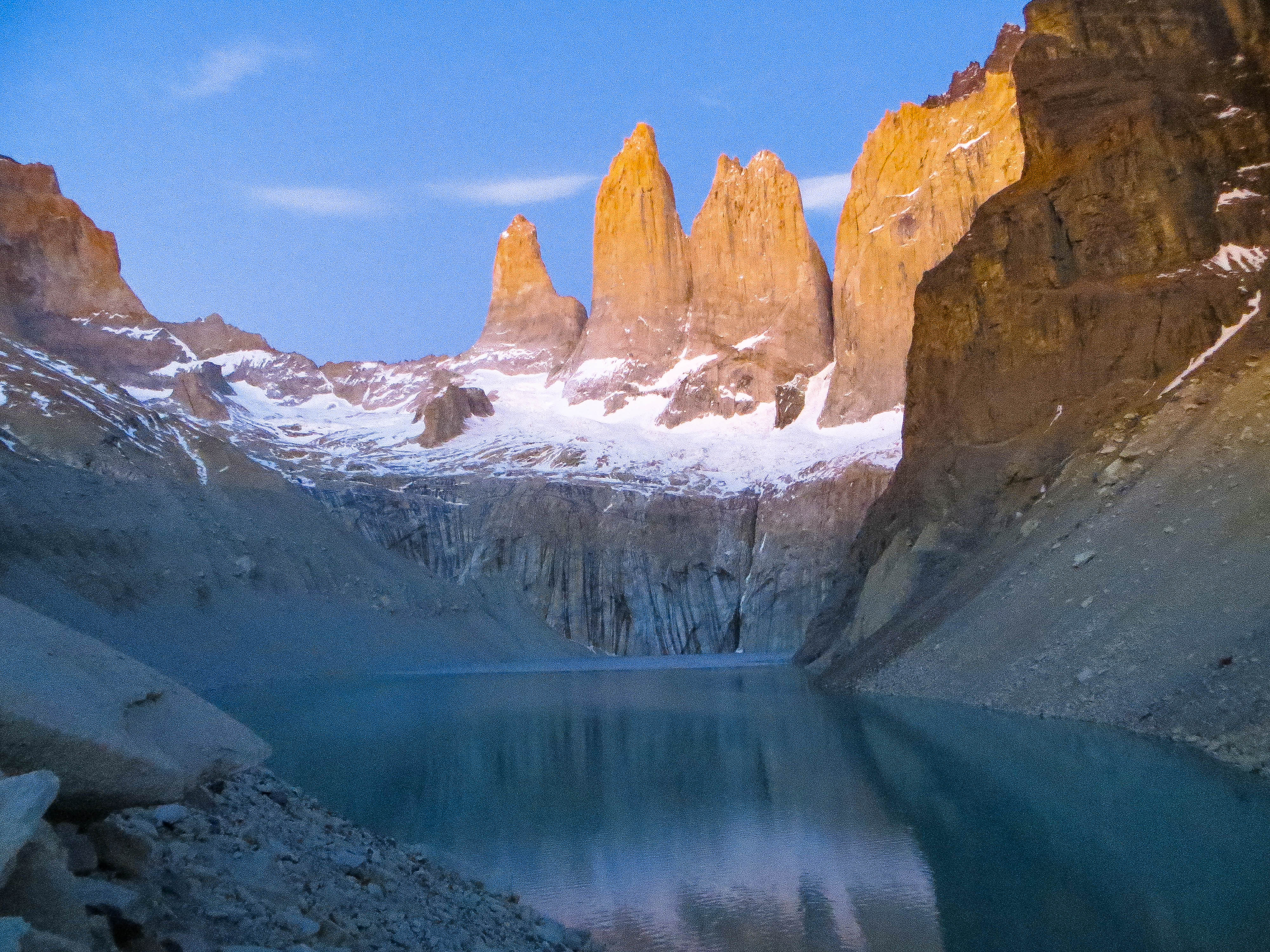 November 6, 2016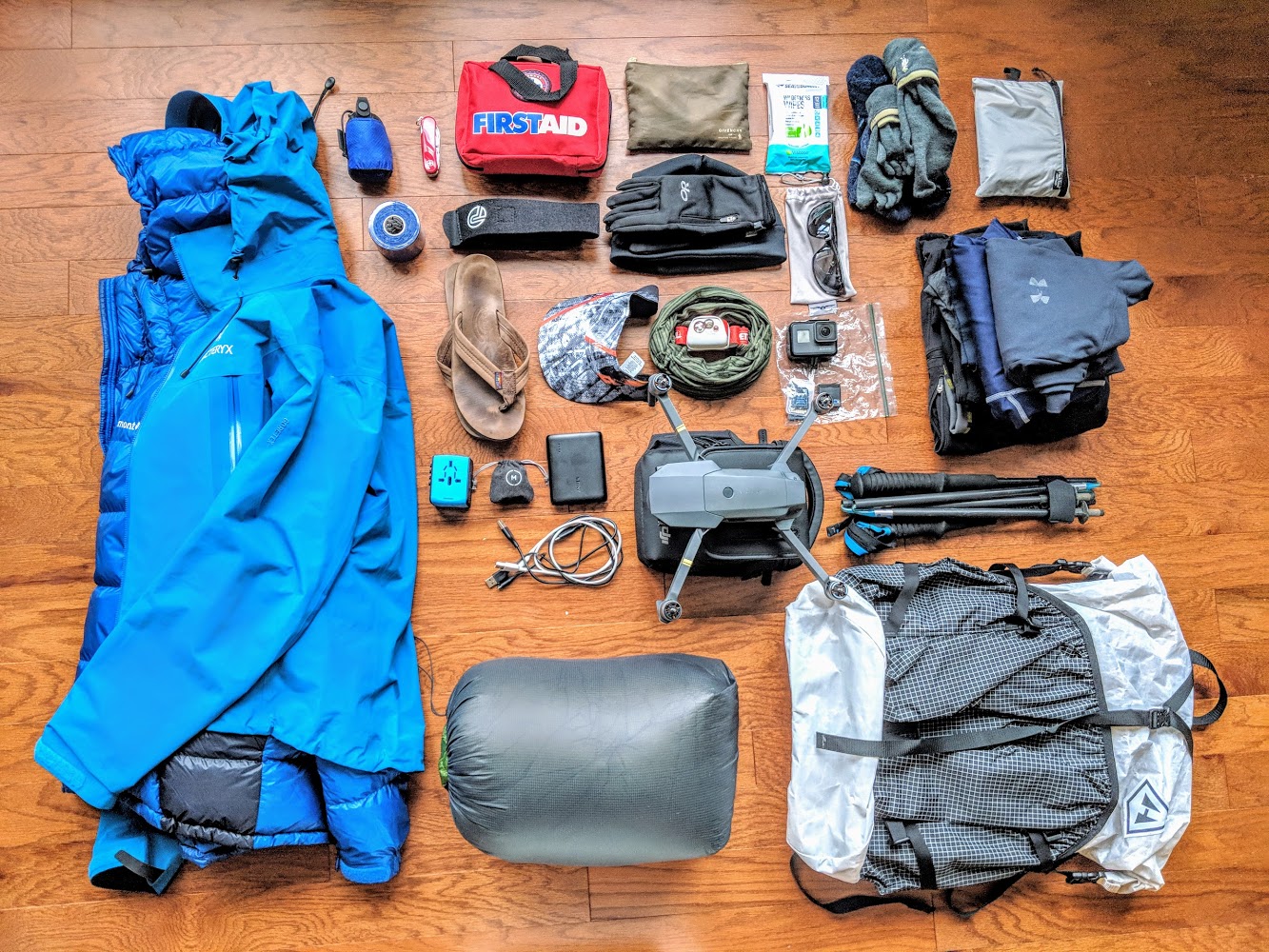 April 14, 2018